Bravo Zulu Landstar: Veteran's Memorial Move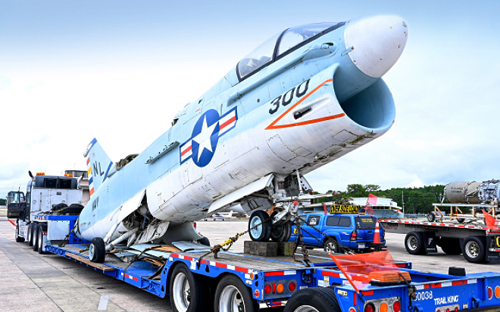 The wind was blowing and the North Florida skies were dark the afternoon two Landstar business capacity owners (BCOs) pulled into Jacksonville's Cecil Commerce Center hauling an A-7 Corsair II, a combat plane constructed during the Vietnam War.
"It was an honor to pull into the hangar at Cecil Field with this freight," says Landstar BCO Allen Stumke, a Vietnam War veteran who joined the Landstar family in 1983. "In all my years at Landstar, I've hauled some pretty neat stuff, but this had special meaning. It was a pleasure to make this move happen in honor of military veterans, those missing in action and our fallen heroes."

The A-7 Corsair II is one of four aircraft to be displayed at the former Naval Air Station Cecil Field Master Jet Base (1941-1999) now known as Cecil Commerce Center. The A-7's transport from Pocahontas, Arkansas, into Jacksonville is part of the first phase in constructing a National POW/MIA Memorial and Museum on the decommissioned Navy base.

"The National Naval Aviation Museum loaned us an A-7 Corsair II which has been on display for the last two decades in front of a mechanics school," says Mike Cassata, executive director of the nonprofit group Cecil Field POW/MIA Memorial. "We asked for Landstar's support on this move because they are a transportation company based in Jacksonville. And, we are familiar with the transportation logistics services Landstar provides to the military. We needed that expertise and experience for this haul."

After a meeting with representatives from Landstar's government services department, the plan to move the historic Navy attack plane was underway.
"One of the greatest things about the Landstar network is the pride we all have in supporting our military and our veterans," says Landstar Transportation Logistics Vice President of Government Services Mike Cashner. "It was an honor to be part of bringing this history into Jacksonville."

Independent Landstar Agent Mike Meyer and the agency team at TLG Transport as well as Landstar BCOs Allen Stumke and Andy Freeman agreed to donate their time and commission to move the plane.
"We are always willing to support Landstar and go the extra mile to make moves like this happen," says Meyer who worked closely with his son Colt to plan the project. "It was a special opportunity to lend our agency experience in moving aircraft to this veterans group."

"I was thrilled to be part of this haul," says Landstar BCO Andy Freeman. "Every person who drove on this load, including myself and the drivers of our escort pilot vehicles, are military veterans or spouses of military veterans. Some of us are Vietnam veterans. So, having this piece of wartime history on our trailers was an absolute honor."

As the famous Navy signal for an operation well done goes - "Bravo Zulu" Landstar.

The nonprofit organization Cecil Field POW/MIA Memorial Inc. plans to finish the first phase of construction for the National POW/MIA Memorial at Cecil Commerce Center by the spring of 2020.

In 2020, the organization will begin the second phase of the project which includes bringing three more aircraft displays to Cecil Field and construction of the first National POW/MIA Memorial and Museum. 

Watch the plane arrive at Jacksonville's Cecil Commerce Center:


For more information on Landstar's services, click here to request a quote.