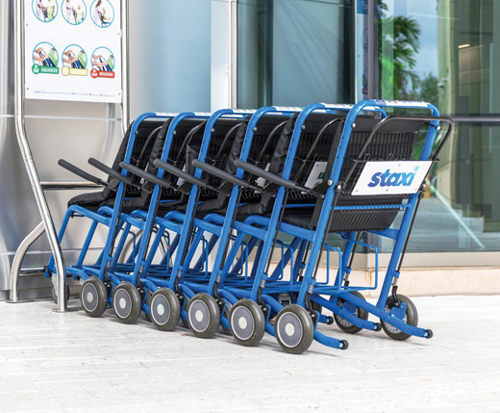 Less-than-truckload (LTL) freight doesn't require a full truckload, but it does require a full understanding of just how complex it can be to combine several smaller shipments to fill one truck. Transportation providers with that knowledge and experience can do much more than haul LTL freight – they can add value by offering a cost effective and flexible shipping solution.
"Landstar was recommended as an LTL provider that could meet the specific requirements of Staxi shipments and provide timely delivery to our customers at rates that are fair, right and reasonable," explains Helen Ford, senior manager of Customer Service and Logistics at Staxi.
Shipping out of Georgia in the United States, Staxi is a global company with a global footprint that makes nestable transport chairs for medical facilities, airports and other public places where people who are temporarily immobile or distance-challenged require assisted transportation within the facility.
"The standard LTL transportation plan we had in place with another carrier was failing. We needed a better plan and a more suitable system for our chairs," says Ford. "Because of the varying quantity of chairs shipped in each load, sometimes as little as single chairs for smaller facilities such as clinics, sometimes as many as 40 for larger medical and airport facilities, they often do not require a full truckload shipment. And, while the chairs do nest together at customer locations for easy storage, to avoid damage they cannot be stacked during transport."
"Landstar specializes in simplifying the complexity of LTL shipping and creating customized solutions to meet customer challenges," says Al Reisman, Landstar Transportation Logistics executive vice president of specialized freight services. "Through Landstar's support, expertise and use of various management tools, we are able to provide powerful and insightful market intelligence to aid in pricing and service – allowing our customers like Staxi to develop and produce their unique products to market."
The Staxi logistics team turned to independent Landstar Agent Sarah Monrraga and the LTL experts at Landstar to create a shipping solution that would translate into on-time, claim-free delivery of their custom-made chairs throughout the United States and Canada.
"Because of the small quantity shipped and the product's weight, Staxi transport chairs were a challenging commodity," says Sarah Monrraga, agency owner at Third Generation Logistics. As Monrraga explains, to address Staxi's challenges, the process began with freight analysis and implementation of Landstar's LTL transportation management system (TMS).
"A lot of factors come in to play with LTL shipments – weight class, available capacity, route optimization – and what we have available through Landstar to support our customers makes all of it less complicated," says Monrraga. "We provided Staxi with the necessary training to utilize Landstar's LTL TMS software. The team also showed them how they could see savings with a streamlined transportation plan."
Once Landstar's LTL system was in place, the LTL services team began proactively pinpointing areas of improvement for Staxi's shipments.
"Implementing Landstar's LTL transportation management system showed us what had to change to make Staxi shipments more cost effective and timely," says Monrraga. "LTL freight is classified differently than truckload freight. In the LTL world, lighter freight is a higher freight class and costs more to ship. We were able to reclassify the Staxi freight into a lower LTL freight class. Reducing the freight class can result in roughly 13%-15% savings," says Monrraga.
With a transportation management system that offered cost savings through better visibility of loads and rates, access to capacity for every shipment, and a streamlined LTL transportation plan, the team at Staxi says they saw immediate improvements.
"Having Landstar's support and the TMS technology to accurately quote gives us more confidence with our customers that we are providing fair and accurate prices," says Rosemarie Murphy, logistics manager at Staxi. "With Landstar's LTL services, our customer shipments arrive on time, we are able to track our expenditures, better manage our purchases and we've stabilized costs without expanding resources."
"When customers choose Landstar's LTL services, they receive unmatched support, expertise and execution to enhance their supply chain performance," says Reisman. "Landstar's market and industry intelligence along with our detail in execution allows us to deliver flexible LTL solutions to every customer's challenges and drive them forward."
For more information about Landstar's services, request a quote here.