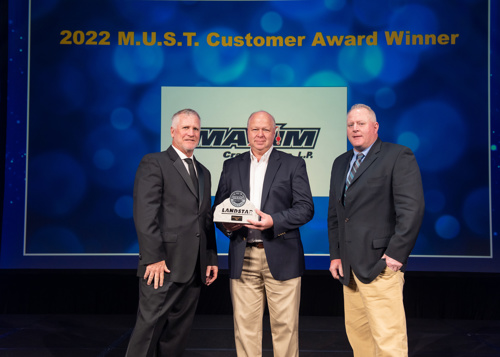 Landstar President and CEO Jim Gattoni, left, presents Robert Schultz, center, and Landstar Agent Tony Lay, right, with the 2022 Overall M.U.S.T. Customer of the Year award.
Landstar announced MAXIM Crane Works, L.P. of Wilder, Kentucky, as its 2022 Overall Landstar M.U.S.T. Customer of the Year.
A collaboration between Landstar and its customers, Landstar's Mutual Understanding of Safety Together, or M.U.S.T., program involves an extensive on-site review of a customer's facility, followed by discussion and analysis of loading, unloading and securement, in addition to other safety practices.
Landstar Vice President of Safety and Compliance Shelly Seaton announced MAXIM Crane Works, L.P. as the overall winner during a ceremony held April 14, 2023. Independent Landstar Agent Tony Lay and Triple C Logistics, Inc., the Landstar agency that worked with MAXIM Crane Works, also were recognized.
In 2022, the company collaborated with Lay on ways to improve safety at its Wilder facility. This included a M.U.S.T. customer visit, participating in Landstar's safety calls, and working together on yard-operation safety and job-site safety requirements.
In response to the program's success at its Wilder, Kentucky facility, MAXIM Crane Works is making plans to share the M.U.S.T. program and Landstar Safety Thursday Conference Call with its 60 facilities nationwide and continues to prove its continuing dedication to a safe workplace.
"MAXIM Crane Works shares Landstar's safety-first approach and it was even more apparent the company is serious about safety when, along with Tony, they were eager to share the information from the site visit with additional locations, and participate in future Safety Thursday Conference Calls," said Seaton.
MAXIM Crane Works, L.P:
Maxim Crane Works is the only coast-to-coast provider of comprehensive lifting services in the United States. We specialize in the rental of heavy-lift equipment, including hydraulic truck cranes, rough terrain cranes, crawler cranes, tower cranes, conventional truck cranes, and boom trucks. We serve various industries, including power and energy, telecommunications, and industrial and commercial construction.
Situated in over 60 locations across the United States, each branch can provide management, rigging, engineering, transportation, and outsourcing – making Maxim Crane Works' product and service offerings the most far-reaching in the industry and across the country.
Learn more about Maxim Crane Works at www.maximcrane.com.