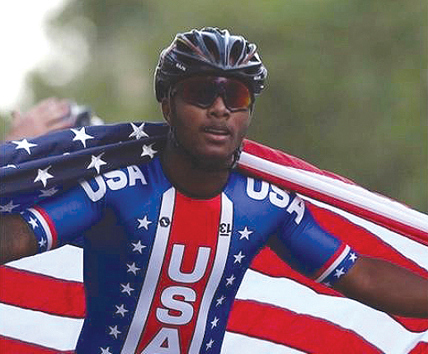 Sabien Tinson is listed as the fastest inline speed skater in the United States. A three-time Team USA Junior World Champion and Junior Olympic qualifier, the 18-year-old holds inline speedskating records for his fast and agile pace on wheels.
His dad, Scot, has a passion for wheels too, but doesn't hold any records for speed - because that wouldn't be safe. Scot is a Landstar business capacity owner (BCO).
"My son started skating when he was 12. He just loves being on the skates and going fast," says Scot Tinson. "His passion and his dream is to make it to be an Olympic speed skater. The problem with that is there is no inline speedskating in the Olympics like there is in the junior games, so he has to transition to the ice."
But, a little frozen water isn't going to dampen his Olympic hopes.
"The next step is for him to move to Salt Lake City, Utah. He'll be part of a training program there to prepare him for the Olympic trials to be on the USA men's speedskating team," says Scot.
He adds that supporting Sabien through the next step will be possible because of the freedom and opportunities Scot has as an independent owner-operator leased to Landstar.
"If it weren't for Landstar, we wouldn't have the income to support Sabien's dreams. Now, with him going to Utah, I'll be able to find loads there and plan routes around Salt Lake City so that I can be a part of that experience and continue to run my business," says Scot.
The winter Olympic Games in 2022 will be held in Beijing, China. You can follow Sabien Tinson's speedskating career on pavement and ice via Facebook and Instagram.