The Overall M.U.S.T. Customer of the Year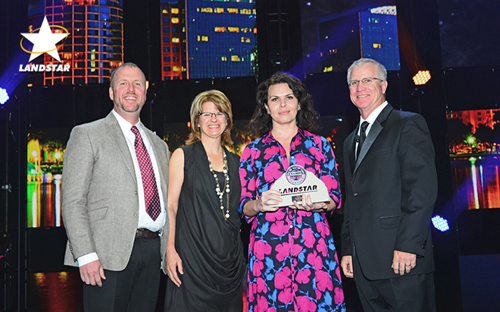 Landstar's customized Mutual Understanding of Safety Together, or M.U.S.T. program brings Landstar executives together with customers to ensure the freight is delivered safely, on-time and damage-free. Whether it's a full day safety event with live demonstrations or an informal meeting to answer questions regarding carrier safety records, M.U.S.T. customers directly participate in the fundamentals of Landstar's safety-first culture.

Landstar Agents Trevor and Shelley Hagerman brought the practice of putting safety first to a new level with their customer Toromont Cat, a division of Toromont Industries. Because of the proactive approach to safety taken by the agents and customer in 2016, Landstar presented Toromont Cat with the Overall M.U.S.T. Customer of the Year Award during the 2017 Landstar Convention.
"Safety is a top priority at Toromont Cat. It's apparent whenever you walk through the door of any of its many facilities," says Landstar Agent Trevor Hagerman. "We are honored that Landstar selected Toromont, our customer and such a deserving company, as Overall M.U.S.T. Customer of the Year."
Toromont Cat was among dozens of Landstar customers that participated in a M.U.S.T. customer visit throughout 2016. Since its inception more than a decade ago, the M.U.S.T. program has included an extensive tour of a customer's facility, followed by a discussion of best safety and securement practices.

In July 2016, the Hagerman agency, TH Logistics, Inc. (THE) in Stirling, Ontario, joined Landstar representatives in a M.U.S.T. customer visit to the Toromont Cat facility in Concord, Ontario. After a discussion of safety, compliance and loss prevention practices, there was a live demonstration by a Landstar truck owner-operator who loaded and secured the customer's 349 Excavator.

"Toromont Cat's commitment to safety, compliance and security was unmatched during 2016," says Landstar Vice President of Safety and Compliance Mike Cobb. "The M.U.S.T. customer visit at their facility offered a unique and valuable experience for both the customer and Landstar."

The following companies were awarded a M.U.S.T Customer of the Year award and were in the running for the 2016 overall award:

KONE

Allen, Texas
Landstar Agent Jeff Boyte
Anchor Freight Inc. (CMT)
Sulphur Springs, Texas

SNC-Lavalin

Houston, Texas
Landstar Agent Hal Gagliano
GCR Logistics Incorporated (GCR)
Houston, Texas