The Landstar Rookie of the Year 2019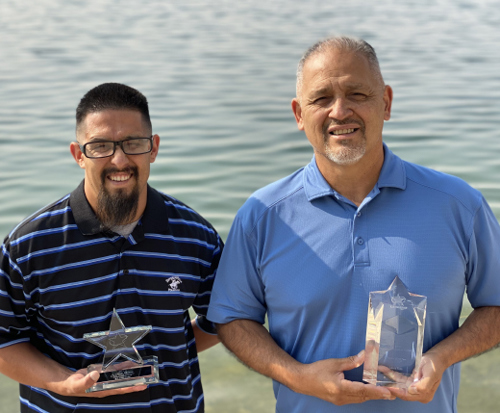 Landstar Rookie of the Year Louis Rios Jr. opened his independent Landstar agency in 2018 for the opportunity to run a business on his own. Rios got his start in logistics in the lumber industry so he's new to Landstar but not new to the freight transportation industry.
Rios began to build his logistics career as a logistics coordinator at a lumber warehouse, before climbing the ladder to become a top producer in lumber sales. Rios explains after a long, successful career traveling all over the United States, he found something was missing – his family.
"I have six children and four grandchildren who are all in California, and I couldn't move and still work for the company I was with in Colorado at the time," recalls Rios. "So, I opened my Landstar agency in Colorado with the intent to eventually bring the business to California and move to be closer to my family."
Having previously used Landstar services to move freight and a full book of business that connected back to his days in lumber sales, Rios decided to start his own freight agency.
"It was a no brainer to become an independent agent with Landstar. I understand logistics. I am a problem solver and I have always figured out solutions for my customers," says Rios. "I knew that Landstar would allow me to continue to successfully support my longtime customers and move my freight agency to be near my family."
Now located in Helendale, California, Rios runs his independent agency, We Served Logistics, from his lakeside home with the help of his son, Louis Rios III.
"My son lives in the neighborhood and drives to my house every morning to help run the agency. It is wonderful to run the business together and be close enough to see my children and grandchildren almost every day."
After two years, Rios says he certainly doesn't feel like a rookie anymore. Instead, the agent says he feels like he has a solid foundation on which to build his business into a successful family legacy.
"There are so many opportunities for growth in this industry and especially with Landstar," says Rios. "At Landstar, no one stops you from growing, and the company is there to help you along the way."
Landstar Rookie Stats: Since joining the Landstar network in August 2018, We Served Logistics has generated more than $2.6 million in Landstar revenue.
When a Landstar agent is referred to as a "rookie," the title only refers to their newness within the Landstar network. Independent Landstar agents selected for the Landstar Rookie of the Year Award demonstrate outstanding revenue performance and a commitment to excellence in customer service.
Rookie of the Year recipients must be part of Landstar for less than two years. Nominees for the 2019 Rookie of the Year Award must have joined Landstar between July1, 2018 and June 30, 2019.
For more information about becoming an independent Landstar agent, visit https://www.landstar.com/the-landstar-network/agents/.