Promoting and Practicing Safety-First
Landstar LSO of the Year, Lacey Crosson-Cornelius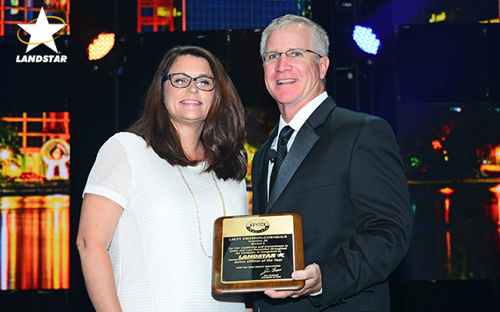 "I have a passion for safety," says Landstar Safety Officer (LSO) of the Year Lacey Crosson-Cornelius. "I have a passion for helping our business capacity owners (BCOs) stay safe on the road." To Crosson-Cornelius that means practicing complete and accurate dispatch, friendly reminders and ongoing conversations about best safety practices.
Running a safety-first Landstar agency is something Crosson-Cornelius has focused on since taking on her father Bill's agency in 2012. She understands that it's up to each agency's safety officer to guide everyone involved in the transport of goods to exercise secure and compliant practices.
During 2016, Crosson-Cornelius invited staff, BCOs and customers to attend more than six safety events at The Crosson Agency LLC in Gadsden, Alabama.
"Throughout the year, we also supported seven BCO meetings in conjunction with Landstar's monthly Safety Thursday conference call. I think these meetings, and the open discussion that comes as a result, help create a strong community of safe and reliable Landstar BCOs," says Crosson-Cornelius.
In her effort to spread Landstar's safety-first message far and wide, each year the independent Landstar agency also sponsors an annual luncheon and safety event open to the public. Crosson-Cornelius says the yearly gathering serves as a way to spread the agency's safety first message beyond the walls of her agency.
"Communication is key. It's our responsibility to give our capacity providers, customers and the Gadsden community every opportunity to learn more about highway safety," says Crosson-Cornelius.
In addition to community outreach, The Crosson Agency works closely with its customers through Landstar's Mutual Understanding of Safety Together or M.U.S.T. program. During a M.U.S.T. customer visit, the customer agrees to host Landstar for tours, demonstrations and discussions about loading/unloading procedures and transport to further enhance safety practices as related to the customer's particular needs.
"The M.U.S.T. program allows us to act as a safety coach and mentor to our clients," says Crosson-Cornelius. "Landstar is really the cream of the crop. Our customers know we have an outstanding safety record and that they can depend  on us to be a reliable transportation logistics provider."
The agency has a history of a very low accident frequency rate based on the number of loads booked. Actively promoting and practicing safety-first is why Crosson-Cornelius was named the 2016 Landstar Safety Officer of the Year during the 2017 Landstar Convention held in Orlando, Florida.