Landstar System, Inc. honored the best and safest Landstar owner-operators during the 7th  Annual Landstar BCO All-Star Celebration held earlier this month.
The event featured an awards program during which Landstar honored 166 business capacity owners (BCOs), the company's term for independent owner-operators who provide transportation capacity under exclusive lease agreements. Landstar was proud to honor 14 BCOs as Landstar Roadstar® recipients, 138 as new Million Mile Safe Drivers, 12 BCOs as Two Million Mile Safe Drivers, one BCO as a Three Million Mile Safe Driver and one BCO as a Four Million Mile Safe Driver.
The select group of inductees was honored during a three-day event held in Savannah, Georgia, recognizing their outstanding safety records and professionalism behind the wheel. Each of the inductees has driven more than one million consecutive miles without a preventable accident, a distance that takes a truck operator approximately 10 years to travel.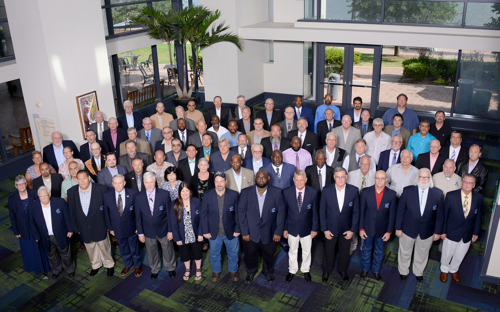 "Landstar is proud to showcase this class of Landstar Million Mile Safe Drivers and Roadstar recipients as the industry's best," said Landstar CEO and President Jim Gattoni. "These men and women make the roads safer for all of us. Their talent, service and dedication to safety is truly worthy of a celebration."
Of the 989 active Landstar Million Mile Safe Drivers, 14 were awarded the Roadstar distinction during the 2018 celebration. The Roadstar designation is one of Landstar's highest honors for owner-operators who are chosen for their consistently high levels of safety, productivity and excellence in customer service. Each of the 14 inductees previously earned Landstar Million Mile Safe Driver status. The new Roadstar inductees raise the total number of active Landstar Roadstar recipients to 174. Landstar BCOs have received the Roadstar honor since Landstar began presenting the award in 1990.
"These professional drivers raise the bar for the entire trucking industry, and have earned the right to be called Landstar's best," said Gattoni.
The Class of 2017 Roadstar® Recipients:
Kevin Bouchard, Michael Brown, Paul Christensen, Tom Cox, Kody Giacomo, Lloyd Lampman, Cecilia Logan, Robert Martin, Michael Mathews, Garry McCullough, Lori Nelson, Alan Poole, Dennis Sheckels, Danny Trull
The Class of 2017 Million Mile Safe Drivers:
One Million Mile Safe Drivers:
Greg Bailey, Randy Barnes, Berzain Benitez, Lester Bents, William Bergman, Nickolas Bicknell, Leon Black, Chad Blue, Joe Boon, Pamela Boyer, Dennis Bramblett, Roberto Burgos, John Buschman, Mario Carrillo, John Carroll, Paul Carter, Zijad Celebic, Daniel Chira, Lloyd Coffman, Willie Collins, Greg Colter, Ted Colvin, Douglas Costner, Jerry Cowley, David Crandall, Richard Davis, Segundo De la Cerda, Nery Del Cid, Scott DeLaSalle, Louis Dominguez, Chuck Downs, Ron Dunaway, Billy Elder, Roberto Esparza, John Fierro, John Fisher, Jim Fowler, Noe Garcia, Chester Gartin, Heron Garza, Matt Gauthier, Anthony Gee, John Girardi, Feliciano Gongora, Felix Gonzalez, Ron Griffin, Nestor Grijalva, Dan Harris, Mehrdad Hejazimanesh, Kevin Hogan, Steven Hoth, Tony Huff, Justin Ippolito, Corey Jenkins, Dave Johnston, Sr., Lee Klass, Charles Krieg, Eugene Kurpiewski, Peter Ladd, Val Lane, Carlos Leal, Jerry Lee, Michael Lemasters, Danny Lemons, David Liske, Cecilia Logan, David Long, Troy Lovell, Michael Lyke, Bryan Mair, Joseph McElroy, Dwight McGrew, Richard Megler, Jose Mejicano, Krzysztof Misik, Thomas Moore, Arnulfo Moreno, Glen Murphy, Al Mutikori, Chris Newton, James Nichols, Eden Norton, Ozie O'Neal, Joe Parton, Victor Perea, Sara Pingel, Victor Pinson, Kristen Pittman, Danny Price, Edward Ramey, Jim Ratcliff, John Ray, Joe Reed, III, Nancy Reed, Curtis Ridings, Corky Riegsecker, Michael Roberts, Juan Romero, Pedro Sanchez, Christopher Sarver, Mike Schober, Gary Schultz, Gary Seidler, Lonnie Sheets, Michael Short, Daniel Shova, Tavi Sirbu, Fred Sluss, Julius Smith, Larry Smith, Steven Smith, Stephen Sommer, James Sparks, Dale Spicer, Marty Stagaus, Ricky Sturgill, Piotr Szkoda, Jose Taveras, Roydell Texada, Margaret Thrasher, LeRoy Torres, Ruslanas Vaitkevicius, Anthony Van Doren, Alex Velikorostov, Terry Villeneuve, Ray Waters, James Watkins, Phil Watts, Jamie Wiatowski, Ken Wiley, Joseph Williams, Mike Williams, Victor Williams, Sr., Gary Windholz, Ed Winnicki, Kevin Wolfe, James Woods, Joshua Yook
Two Million Mile Safe Drivers:
Dale Brown, Bill Cleary, Lee Edwards, Jr., Dennis Fuss, Jake Jacob, Jon Jordan, Dennis King, Tony Pelehos, Bill Ragland, Gus Sanchez, Allen Spann, Earl Spradling
Three Million Mile Safe Driver Ralph Jones
Four Million Mile Safe Driver Tommy Stiles