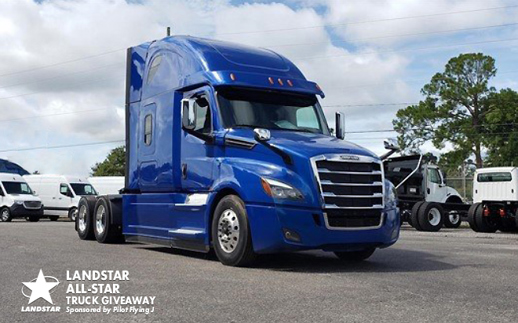 Landstar has announced the date of the 2020 Landstar All-Star Truck Giveaway, along with the names of the four Landstar owner-operators in the running to win a 2020 Freightliner® Cascadia® truck. For the first time ever, the truck giveaway will take place virtually via Zoom video conferencing. This unique event is scheduled for Wednesday, July 8, and is sponsored by Pilot Flying J.
"Even in these unprecedented times of a global pandemic, we are giving away a new truck. Landstar is pleased to continue the tradition of awarding a new truck to one of our Roadstar or Million Mile Safe Drivers as a way to recognize the safety and service excellence of these elite owner-operators," said Landstar President and CEO Jim Gattoni. "We appreciate the contributing support of Pilot Flying J as this year's sponsor of Landstar's All-Star Truck Giveaway."
The announcement about the 2020 Landstar All-Star Truck Giveaway came during Landstar's monthly company-wide Safety Thursday Conference Call held earlier today. The giveaway truck, a 2020 Freightliner Cascadia 126, is viper blue in color and has features including a Detroit™ DD15®, 14.8 L engine and a Detroit DT12™ automated transmission.
In addition to providing details regarding how the truck giveaway will take place via video conference, Gattoni announced the names of the four finalists eligible to win, in alphabetical order they are:
1 Million Mile Safe Driver Jacob Bons from Elk Grove Village, Illinois
1 Million Mile Safe Driver new inductee Almir Ferhatbegovic from Knoxville, Tennessee
1 Million Mile Safe Driver and Landstar Roadstar® Robert Jordan from Soso, Mississippi
1 Million Mile Safe Driver Bill Williamson from Atoka, Tennessee
This year's All-Star Truck Giveaway finalists were randomly drawn from a pool of Landstar's 1,086 active 1 Million Mile, 2 Million Mile and 3 Million Mile Safe Drivers and Roadstars. The Roadstar® designation is the company's highest honor for truck independent owner-operators awarded to the "best of the best" based on their high levels of safety, productivity and excellence in customer service.
The truck winner will be determined by each of the four finalists selecting which box they believe contains the key to the new truck. Whoever guesses correctly, will win the life-changing prize! A recording of the 2020 Landstar All-Star Truck Giveaway will be available on Landstar's social media channels immediately afterwards on Wednesday, July 8, 2020.
Follow Landstar System's official social media pages to catch the excitement of the first Landstar truck giveaway of the year, including interviews with the four owner-operators waiting to find out if they've won a new truck!
Facebook: www.Facebook.com/LandstarSystem
LinkedIn: www.Linkedin.com/company/Landstar
Twitter: www.Twitter.com/LandstarSystem 
Vimeo: https://vimeo.com/landstar
About the Truck Sponsor – Pilot Flying J:
Pilot Flying J, the largest operator of travel centers in North America, is committed to connecting people and places with comfort, care and a smile at every stop. Pilot Flying J, along with the One9 Fuel Network and other brands, is part of Pilot Company. Headquartered in Knoxville, Tennessee, Pilot Company supplies more than 11 billion gallons of fuel per year and is currently ranked No. 10 on Forbes' list of America's Largest Private Companies. The Pilot Flying J travel center network offers a variety of amenities and products to make road travel easier with locations in 44 states and six Canadian provinces, more than 630 restaurants, 73,000 truck parking spaces, 5,200 deluxe showers, 6,200 diesel lanes and 35 Truck Care service centers.