Landstar has announced the winner of the 2021 Landstar Deliver to Win Truck Giveaway, sponsored by Comdata. Landstar independent owner-operator Mike Lamb of Joshua, Texas, won a 2022 Kenworth® T680 in the annual giveaway on Sept. 22, 2021, in Las Vegas.
Lamb was one of five finalists randomly selected for the drawing from the eligible owner-operators leased to Landstar, including:
Daryl K. Batty from Gadsden, AL
Tremayne Bland from Charlotte, NC
Arthur Brown from Killeen, TX
Jeff Mikel from Cleveland, TN
The winner was determined by each of the finalists selecting a single box among five boxes, one of which indicated the recipient of a new truck. Lamb chose Box B in honor of his nicknames for his daughter and granddaughter, Jelly Bean and JB Jr., which made him the winner of a concord blue Kenworth featuring a 455 horsepower Paccar MX engine, front and rear disc brakes, Bendix Wingman Fusion Driver Assistance system and a 76-inch high-roof sleeper.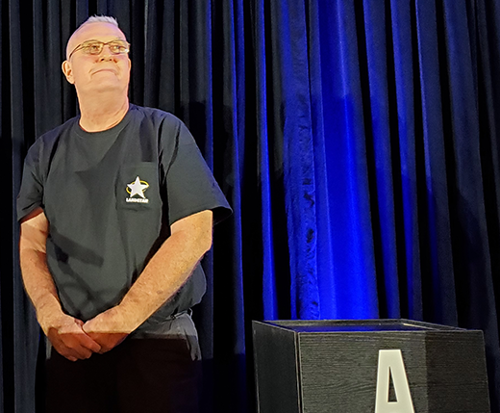 "The timing of this couldn't be more perfect. I'm close to paying off my current truck and have been planning to expand my business with a second truck and driver. Now I can do that with two fully paid-for trucks! And I am really looking forward to the automatic transmission," said Lamb, whose regular route between Dallas-Ft. Worth and Laredo, Texas is often clogged with traffic. "The reality of it all is still sinking in. I am so thankful to Landstar, Comdata and everyone involved who made this happen." 
Each year, Landstar thanks the business capacity owners (BCOs), the company's term for independent truck owner-operators with exclusive lease agreements, at BCO Appreciation Days. The Deliver to Win Truck Giveaway is a highlight of the two-day event, which recognizes BCOs for providing excellence in safety and customer service.
Throughout the year, all eligible owner-operators leased to Landstar automatically earn entries in the Deliver to Win Truck Giveaway contest by delivering loads safely during the contest period. They also have opportunities to earn additional entries, including monthly contests held via DeliverToWin.com. After the contest period ends, all entries are pooled and finalists are selected by a computerized random number generator.
"Congratulations to Mike! It's an honor for us to provide such a life-changing opportunity for a BCO by giving away a new truck. We appreciate all of the Landstar owner-operators who are committed to our safety-first culture and deliver excellent customer service each day," said Landstar President and CEO Jim Gattoni, who hosted the giveaway. "Our thanks to Comdata for its contributing support of the giveaway as this year's sponsor."
Click below to see Lamb's reaction to seeing his new truck for the first time.
Deliver to Win is one of two annual giveaways where Landstar provides eligible owner-operators a chance to win a brand new truck. Landstar Million Mile Safe Driver Dennis Bramblett won the Landstar All-Star Truck Giveaway in July.