Landstar BCO Lifetime Achievement Winner Reflects on Four Decades
As with any career, working as a professional truck driver requires a certain amount of "paying your dues" in the beginning. For Landstar's 2022 BCO Lifetime Achievement Award Winner Lenwood Ashton that meant working as a company driver for a local business near his home in Montross, Virginia, and then owning and operating a dump truck.
"The only reason I started off with a dump truck was because I didn't have enough money to get a tractor," shared Ashton. "So, I drove the dump truck for two and a half years to save up money. I didn't like it. I just wanted to get driving with my own tractor and trailer. Then one day back in the mid-1970s I decided, this is it. I went and bought my first tractor and the rest is history."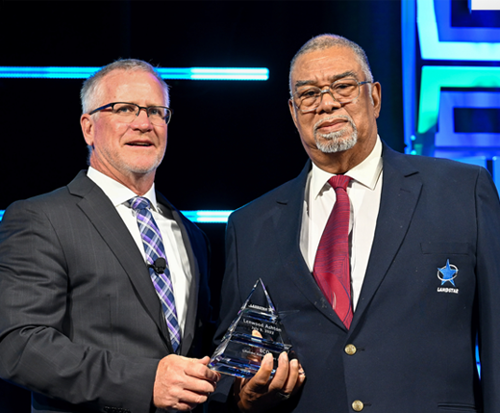 As a new independent owner-operator, Ashton joined the company now known as Landstar Ligon in 1976 and started hauling flatbed loads. It wasn't long before he decided to invest in his own flatbed trailer. "I think it was less than two or three months after I got started that I bought my first trailer because I was seeing all the money I could make with it." He has continued to focus on flatbed freight throughout his career.
Ashton said a lot of things have changed for truck drivers over the years and while he didn't like some of the changes at first, given some time he has always been able to adjust. Before Ligon became part of the Landstar network, the company used dispatchers. "For my first 20 years or so, we had dispatchers who would find a load for you. Then, Landstar decided to do away with dispatchers and let owner-operators find their own loads. At the time I thought it was a bad idea, but as it turned out it was a great idea."
Over the years of booking his own loads, Ashton has cultivated relationships with a few independent Landstar agents who reach out to him regularly. He uses the Landstar load board to find additional loads for his schedule and enjoys being able to take time off every other week or so.
Another adjustment was the change in hours-of-service regulations. "Back in the day, it was 10 hours on and eight hours off. Now, it's 14 hours working and you can drive for 11 of those, and then it's a 10-hour break. It
was a little rough getting used to that after so long, but now it doesn't bother me. You've just got to be flexible in this business."
As a professional owner-operator of more than 40 years, Ashton has millions of miles of safe driving with Landstar under his belt. He reached his first million miles of safe driving in 1985, and he received his
Two Million Mile Safe Driver award and earned the Landstar Roadstar® recognition in 1996. He was inducted as a Three Million Mile Safe Driver in 2004. In total, Ashton has driven more than 3.9 million miles while leased to Landstar without a preventable accident.
According to Ashton, his safety-first approach includes being courteous and patient, planning trips in advance, and allowing plenty of time for delivery. His advice to newer trucking professionals is to pay attention to what's going on around them and watch out for other drivers. "And if you're running late, there's no use rushing and trying to make up time. Better late than never."
When asked what other thoughts from his career he might share with the next generation of professional truck drivers, Ashton said, "All I can say is for this kind of career, you've got to like it and want to do it. I've been doing it all my adult life and I am happy to have been leased to a good company like Landstar. It's a good way of life, you know. Nobody is looking over your shoulder, you're your own boss. That's the way I like it."
Business Capacity Owner, or BCO, is Landstar's term for an independent truck owner-operator leased to a Landstar motor carrier.
The nomination standards for the BCO Lifetime Achievement Award are high:
An active or retired Landstar BCO who has been, or was, leased to Landstar for 20 consecutive years.
Earned the Two Million Miler Safe Driver status or higher.
Received the Landstar Roadstar® designation.
Consistently demonstrated professionalism throughout his or her trucking career by developing a reputation for positive interaction with regulatory and enforcement personnel, customers, agents and Landstar employees.