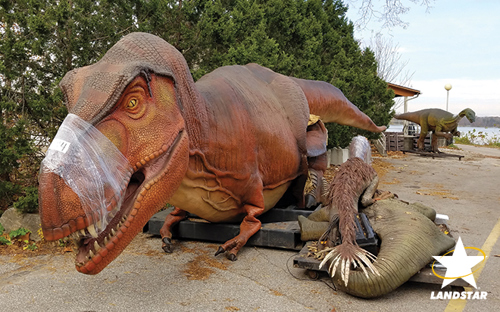 "I got a picture of my head in a T-Rex, can't ask for a better day than that," laughs Landstar Business Capacity Owner (BCO) James Morris. "I've been trucking for 30 years, and this was a really fun and exciting haul."
Morris, a BCO fleet owner of Steed Trans Inc., booked the dinosaur load through The Freight Rate Co., an independent Landstar agency.
To secure the prehistoric freight, Morris used crates, straps and blankets to coax 20 interactive animatronic dinosaurs into vans and transport the reptilian replicas from the Columbus Zoo in Ohio back to their birthplace - a warehouse in Allen, Texas.
"We asked a lot of questions at pickup and delivery, because it was all so interesting," says Morris. "We were told the dinosaurs were being refurbished at the Texas facility to eventually go back to the zoo."
According to the manufacturer, a team of designers, engineers, sculptors and artists called "dino-doctors" are responsible for creating and maintaining the authentic look, sound and movement of each Jurassic giant. Each dinosaur is fitted with its own electronic brain to activate the sounds and control the realistic movements which are powered by a pneumatic system that enables the animatronic dinosaurs to smoothly roam the earth once more.
"There are so many technical things that go into these productions. All the freight was well coordinated at loading and unloading," says Morris. "The crews at each facility were very knowledgeable about the dinosaurs, so they made our experience a lot of fun."
The animatronic dinosaur exhibit is the main attraction in the Dinosaur Island Boat Ride at the Columbus Zoo.