LSO of the Year is a Second-Generation Winner
Being named the 2021 Landstar Safety Officer (LSO) of the Year was more than just an honor for Tammy Clark of SJA Transport Services in Stoneboro, Pennsylvania. Clark says it was a continuation of her family's legacy in Landstar's safety-first culture.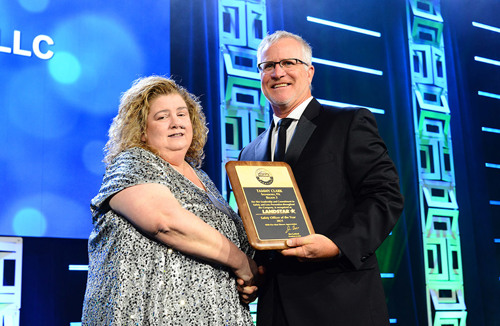 "My mother, Shirley Anhalt, started our agency in 2000 and was named LSO of the Year in 2005," shared Clark. "After her passing six years ago, my brother, Keith Jones, and I took over as co-agents and I became the designated Landstar Safety Officer for the agency."
As part of its commitment to safety, Landstar requires each of the more than 1,200 independent agencies in its network to name an LSO – one individual responsible for the agency's safety performance. These individuals provide support to Landstar business capacity owners (BCOs), Landstar's term for independent owner-operators leased to Landstar, by promoting safe, secure and compliant driving. They also participate in Landstar's monthly Safety Thursday Conference Call, attend safety meetings and support customer safety initiatives.
"My mom taught me a lot about safety, proper dispatch and working with BCOs," Clark said. "In 2016, I hosted my first safety meeting after her passing, which was attended by roughly 100 customers, BCOs and Landstar employees who wished to pay their respects." At the meeting, Anhalt was awarded the LSO Lifetime Achievement Award posthumously to honor her significant impact on the Landstar safety culture. She is one of only six LSOs of the Year to receive the lifetime award since its inception in 2002. "I am proud to carry on her dedication to safety at our agency."
When it comes to safety at SJA Transport Services today, Clark said her agency's commitment to BCOs is a top priority. "Our office answers the phone 24 hours a day to provide support for any sort of driver issue or emergency. This was important to my mom and it's important to me as well."
Clark said the agency follows Landstar's Complete and Accurate Dispatch checklist, which is designed to promote collaboration between shipper, agent and capacity for safe and on-time deliveries. The checklist verifies important trip information including the trip number, trailer and equipment needed, the rate, weight and commodity of the shipment, pickup and delivery details, special instructions or requirements for the load, and customer tracking requirements.
According to Clark, her agency also provides written, truck-specific directions for each pickup and delivery. "GPS technology is a great tool, but it does have limitations. It doesn't always indicate if there's a
low-clearance bridge or an area a truck can't get through. My team takes all of this into consideration when providing directions, which helps to reduce delays or other issues caused by having to reroute."
"Many of the BCOs we work with use the LandstarOne® app now, so we make sure that all the details for the trip are loaded in the app and match the trip paperwork," Clark continued.
On the customer side, Clark has worked to help address potential safety issues for drivers at customer pickup or delivery locations through Landstar's Mutual Understanding of Safety Together (M.U.S.T.) program. "We had one customer who didn't have any curbs in an elevated area where trucks were backing up and there was the potential for a trailer to go over the edge. So we worked with them to have curbing installed, which helps provide a safer environment for the drivers."
Clark said building and maintaining relationships with customers and BCOs has contributed to the agency's success over the years.
"We move everything from ice cream cones to parts for submarines, and we have several customers that have been with us since the agency's beginning. We work with all of our customers directly, not through a 3PL or broker, and we utilize Landstar BCOs more than 95% of the time to haul customer freight. That's what the Landstar network is all about – these direct relationships." said Clark.
In September, SJA Transport Services hosted its 22nd annual Landstar Safety Meeting, another agency legacy. "We should be at 23 years, but we missed one year due to COVID-19," Clark shared. "We typically have between 75 and 80 BCOs from Western Pennsylvania attend the event. On Friday night, the agency hosts an appreciation dinner for the BCOs and on Saturday we coordinate with Landstar to bring in speakers to discuss safety with the drivers and answer their questions. It's a great way for us to maintain positive relationships with the owner-operators and thank them for their commitment to safety and our customers."
Looking ahead, Clark says she knows the family's legacy is in good hands for the next generation. Clark's son, Adam, recently graduated from college and now works full time at the agency. He sits at his grandmother's desk. "My mom's desk sat vacant after she died. I couldn't bring myself to sit there, but it makes sense for Adam. I am sure she would be tickled to see him there, continuing her legacy," shared Clark. "Hopefully, 20 years from now, someone will be interviewing him about winning LSO of the Year."