A Really Tall Heavy Haul
Abraham Lincoln, the 16th President of the United States, is also one of the tallest presidents in the nation's history - standing at nearly 6 feet 4 inches. And his signature mid-19th century stovetop hat added 7 inches to his physique.
Nick-named "Honest Abe" for his reputation as a man of great stature and accomplishments, Lincoln is celebrated in various cities across the U.S. with large statues depicting his larger-than-life presence. The largest Lincoln statue is at Mount Rushmore. There's also the famous Lincoln memorial in Washington D.C. For the next year, in Peoria, Illinois, where Lincoln lived for much of his adult life, there is another giant tribute to the president on display.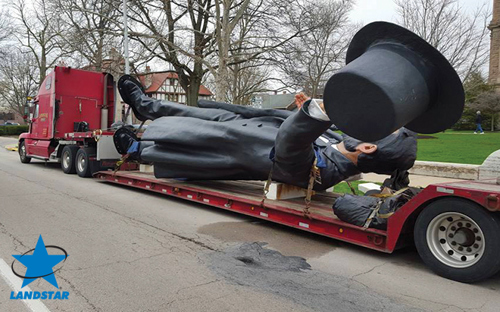 In 2017, as the city of Peoria was preparing for the state's bicentennial celebration, Landstar was called upon to help transport a sculpture that is now part of the Peoria Riverfront Museum exhibit "Celebrate Illinois: 200 Years in the Land of Lincoln." To kick off the exhibit's opening, the museum borrowed a work from public art sculptor Seward Johnson. The piece, "Return Visit," is a 31-foot tall, 19-ton statue depicting Lincoln standing with a "common man" who is holding the Gettysburg Address.
To move the immense piece from Chicago to Peoria, the creator turned to independent Landstar agency WW Transport Inc. and Landstar Business Capacity Owner (BCO) Ronald Shaw, who has 21 years of experience hauling heavy and overdimensional freight with his double-drop trailer.
"I've hauled freight like this from coast to coast over the years, but hauling a huge Abe Lincoln is one you don't forget," says Shaw, who affectionately nicknamed the freight "Giant Abe."
After 165 miles on the road together, "Giant Abe" was lifted off the trailer by crane and fixed on a 17-square-foot platform the museum had constructed specifically to support the statue's mass.
"Watching the unloading was pretty incredible. Suddenly, 'Giant Abe' was off my trailer and flying over the treetops to the platform," says Shaw.
The exhibit, which opened in February 2018, will be on display at the Peoria Riverfront Museum for one year.