Before Jacksonville's newest public art sculpture could become a gateway to the North Florida city, the 3,500-pound stainless steel structure named Emergence first had to hitch a ride across North America. At 18-feet in diameter, with 50 engineered thermoformed acrylic rods that glow with colored light, the piece commissioned by the City of Jacksonville and created by nationally acclaimed artists Laura Haddad and Tom Drugan could not travel on just any trailer or with just any carrier. 
So, the Greater Cultural Council of Jacksonville contacted locally headquartered transportation logistics leader Landstar System, Inc.
"The transport required an experienced owner-operator with a specialized trailer to haul the Emergence
sculpture 3,000 miles from the artists' studio in Seattle, to its new home in Florida," says Al Reisman, Landstar Transportation Logistics executive vice president of specialized freight services. "Among the thousands of independent owner-operators within the Landstar network, many own highly specialized equipment and trailers, like a curtain-sided stepdeck trailer used to transport and protect unique heavy freight. We selected one such BCO to haul this highly sensitive, over-dimensional piece."
On delivery day, the sun was still rising in Jacksonville when Landstar Roadstar® and Million Mile Safe Driver Ray Price arrived at his destination with Emergence carefully secured, and safely hidden behind the curtain-sided tarping system on his stepdeck trailer.
Price, the owner-operator who was asked by Landstar to transport the sculpture based on his experience, safety record and specialized equipment, says the value his trailer provides when it comes to moving unique freight and putting the customer's mind at ease is, well, priceless. "When a customer doesn't want a tarp secured against delicate or precisely engineered freight, the rolling tarping system protects high-value shipments from the elements during travel – much like a dry van does, only better."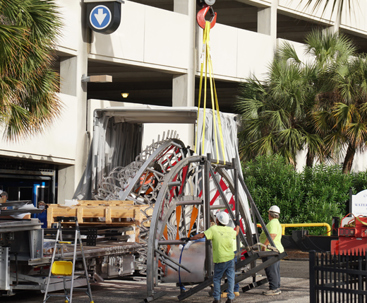 As the independent owner-operator explains, Emergence is the perfect example of freight shipped via a highly specialized platform trailer. "Just the normal vibration from the road that happens during travel can sometimes cause screws used in the freight to loosen. The rolling system on the stepdeck trailer protects the shipment from outside elements and seals the trailer. If anything were to come loose on the sculpture during transit, pieces would fall onto the trailer bed and not off the trailer onto the road, like it could on an open deck."
Emergence was damage-free upon delivery when Price rolled back the curtain to reveal two giant semi-circles of shiny stainless steel and intricately placed colorful acrylic rods. And, once Price removed the straps and securement, the second reason shippers use a curtain-sided trailer
was evident.
"Loading and unloading heavy equipment or machinery is so much easier with this trailer," says Price. Piece-by-piece, the sculpture was lifted by crane to the rooftop of the five-story structure where it would soon welcome residents and visitors alike to downtown Jacksonville.
Within weeks, the artwork was set for installation and readied to come to life with synchronized music and color-changing RGB LED lights that dance atop the building's mural of painted ribbons.
"In support of the City of Jacksonville's efforts to beautify downtown with public art displays," Reisman says, "Landstar donated the specialized transportation services needed to move the massive sculpture which celebrates the city Landstar calls home."
---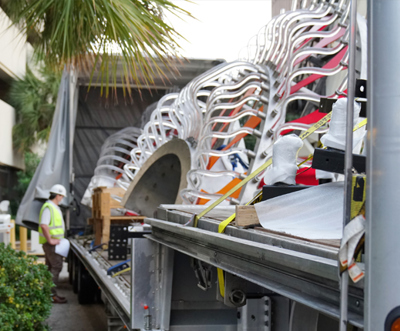 The Pros of a Curtain-Sided Trailer
Because not all freight is created equal, a curtain-sided trailer provides an array of options for hauling a wide variety of freight on a single platform.
A standard curtain-sided trailer is known for its versatility, three-sided and
top loading/unloading options.
Retractable curtains save time associated with tarping.
Curtain-side rolling systems never rest or rub against a secured load, leaving freight
damage-free and protected from the elements during travel - just as dry van would.
Containment of any parts loosened during normal transport, minimizing loss.