You're in business to make money. LCAPP helps you keep it.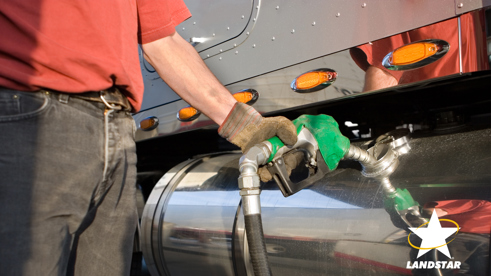 These days, prices are up, up, up – in the grocery store, at the pump – and on the things needed every day – especially to run a successful independent business. For owner-operators, the two biggest, most unavoidable expenses that eat into profits and send your bottom line in the wrong direction are fuel and tires. What can you do? Landstar owner-operators can quickly and easily lower operating costs by taking advantage of LCAPP for tire and fuel discounts – and so much more!
The More You Use, the More You Save
LCAPP (pronounced L-cap) is short for Landstar Contractors' Advantage Purchasing Program, which is long on savings. Landstar business capacity owners (BCOs), the company's term for owner-operators leased to Landstar, are automatically eligible to use any part of the program as soon as they lease on. LCAPP offers third-party discounts on an incredible variety of products and services, as well as special sales and limited time offers. The more you use, the more you save.
"For most BCOs, the two biggest ongoing business expenses are fuel and tires, so it's no wonder the discount programs for these two items are a favorite among those who take advantage of the savings opportunities," says Gregg Nelson, Landstar vice president of BCO retention.
Last year, Landstar-leased independent owner-operators saved a total of $81 million on fuel and $2 million on tires – breaking LCAPP records. In 2023, the trend continues, with fuel rebates at more than $21 million and $530,000 on tires just in the first quarter of this year!
Many independent Landstar owner-operators say that once they start using LCAPP's fuel and tire programs on a regular basis, they're shocked at how much it affects their business' bottom line.
"The savings are considerable," says Terry Redding, Landstar BCO. "Last year on fuel alone, I saved just shy of $11,000 through LCAPP. I saved a few hundred dollars on trailer tires too. Plus, I manage my fuel costs through the LandstarOne® mobile app."
Best of all, LCAPP's easy-to-use integrated tire purchasing program gives owner-operators the ability to check tire prices online anytime, day or night, through lcapp.com (but only BCOs have a login and password, not just anyone has access to these savings!)
LCAPP users can find the most recent information – including new programs, new vendors and limited-time specials – in a variety of ways. 
"We want every BCO to be able to easily stay up-to-date of all the ways LCAPP is working behind the scenes to provide discounts and savings," says Aaron Peterson, LCAPP manager. "The team strives to make the program easy to use, and easy to stay updated on LCAPP news and special deals – whether that's through lcapp.com, our Facebook page for Landstar Owner Operators, one of Landstar's BCO quarterly town hall conference calls – or our Road to Success podcast." Peterson recently hosted an episode of Landstar's Road to Success podcast called The LCAPP Insider.
Beyond Business Basics
Tire and fuel discounts can net BCOs big savings, but why stop there?
"LCAPP is good … every little bit helps out here," said Landstar BCO Thurman Best.
"While primary use of LCAPP on a daily basis is fuel and tires," Nelson says, "there's a whole array of options available, including programs for business financing, tractor and trailer parts, business assistance, communications, hotel stays, and more."
Here's a quick list of some of LCAPP's offerings beyond the basics aimed to help BCOs save money. Such as:
LCAPP on LandstarOne® Mobile App
Landstar BCOs can chart the most financially beneficial loads and optimize fuel savings using the LandstarOne® proprietary mobile app. BCOs can utilize the app for load searches, plot their route based on fuel pricing, or just identify fuel stops along the way. Plus, the app features show fuel price net of IFTA credit. The app can be downloaded from the Google and Apple app stores. 
For Sale By Owner
LCAPP's For Sale By Owner program is simple, convenient, and best of all – it's FREE! Landstar BCOs and agents can post online ads to sell trucking-related equipment. It's an exclusive direct marketplace only available to Landstar-affiliated sellers.
Financing
LCAPP is ready to roll with not one, but two programs to help with key business financing needs at
competitive industry rates. Landstar Contractor Financing, Inc. (LCFI) helps finance purchases of new trailers, and Wells Fargo Equipment Finance specializes in commercial lending equipment purchases. Information about both companies and applications are available on lcapp.com under Financing Programs.
Vehicles
Looking to purchase or lease a new family vehicle? Don't shop without LCAPP! Landstar BCOs are eligible for discounts on the lease or purchase of up to two new Ford vehicles each year through the X-Plan, which includes Ford and Lincoln. Contact LCAPP to get the partner code, then visit Fordpartner.com to see eligible vehicles and the X-Plan pricing, learn about additional incentives, search local dealer inventory, and more.
Hotels
Whether business or pleasure, hotel stays across the U.S., Canada, and into Mexico could cost less with LCAPP. Current participating hotels include Red Roof Inn, Motel 6, Studio 6, and Wyndham Hotels. Discount codes are available online through lcapp.com.
"This isn't all that's available through LCAPP," says Denis Knuth, LCAPP director. "If we haven't convinced you to dive deeper into LCAPP's programs, or you're using the program but need additional information, we can help. BCOs can call the LCAPP team directly for assistance and support at 800-531-5227."
Knuth added, "One of the best things about the program is that all of our vendors are vetted. They understand Landstar and that our business model is different. LCAPP has many loyal vendors with good pricing that have decided to be a part of this incredible program – so everyone can be more successful."
Vendors also have a reputation for being readily available to answer questions, find solutions, or even
just talk to learn more about an individual's needs and share how their products and services might help
make a BCO's business more profitable.
"You can usually speak with LCAPP vendors directly, especially at a Landstar BCO appreciation event." Nelson says. "Most have been loyal LCAPP vendors for years and are happy to help BCOs find the best ways to save through their company's LCAPP offerings."
To discover deep discounts and affiliate deals, visit the website or stop by the LCAPP and vendor booths during an upcoming BCO Appreciation Days.
* Note: Landstar's total fuel savings information is calculated weekly and compiled based on information provided to Landstar from its LCAPP vendors.