Landstar offers real-time shipment visibility with automated tracking tool
Landstar Clarity™, Landstar's new proprietary freight-tracking exception-management tool, is enabling Landstar independent freight agencies to be even more competitive in the technology-driven transportation industry through shipment visibility and tracking.
Visibility data can help identify issues or delays with shipments early so there is more time – and more options – for problem-solving along the supply chain.
"It's all about the lead time and how quickly you can get out in front of a problem that gives you more options. When you run out of time, you start running out of options," says Landstar Executive Vice President of Business Intelligence & Strategy Jim Applegate.
Gone are the days when shipment tracking relied solely on phone calls from an agent to the truck operator or carrier for a status update. Driven by customer expectations to track commercial shipments more like consumer shipments, freight agency efforts to optimize efficiency in their operations and, more recently, to mitigate supply chain disruptions, shipment tracking and visibility data has become a hot commodity.
"It's no longer good enough for agents to have a load picked up and then send over a freight bill," says Applegate. "Customers want a dynamic shipping experience and are pushing for agents to provide real-time updates and visibility to show how shipments are progressing."
Real-time Shipment Visibility and Tracking
Clarity uses geo-positional data from electronic logging devices (ELDs), trailer tracking devices and third-party data aggregators to track the progress of shipments in real time. One of Landstar's many technology initiatives, Clarity is offered to all Landstar independent agents and their agencies to better serve the needs of their customers.

"Clarity's easy-to-use user interface makes shipment tracking for agents and agency staff faster and smoother with automatic notification if a shipment gets behind schedule," says Applegate. "The location data from trucks feed automatically to the tool so drivers don't have to worry about making a call or entering a manual update into a mobile app every time they stop. Real-time shipment tracking information can be shared directly from Clarity to customers, so they can check on a shipment at any time. It saves time for everyone."
Location data updates automatically in Clarity every 15 minutes, and the predictive and intuitive system compares the current location with the load's history to determine if the delivery is progressing on schedule. The estimated delivery time is based on actual truck routing, not "as the crow flies," while also factoring in traffic conditions, making ETAs more accurate and reliable. Automatic geofence detection is set at 500 meters around planned stops for more accurate arrival and departure times.
If a truck detours from the expected route or makes less progress than the system anticipates within 15 minute intervals, the load will automatically be flagged for review with a red visual indicator. Users can also manually flag loads they want to watch, filter for certain loads or customers, and leave comments that can be accessed by other team members on loads with issues.
Integration with project44 (p44), one of the leading visibility platforms in North America, has further increased Clarity's reach. While tracking data for Landstar's independent business capacity owners (BCOs) is accessed from in-cab ELDs or through the LandstarOne™ mobile app, third-party carriers not using LandstarOne can allow Clarity to access their tracking data through p44.
"The p44 integration with Clarity eliminates the need for carriers to download yet another tracking app to share data – as there are many of them out there now," says Applegate. "We are looking into integrations with other visibility platforms, as well, to further enhance our reach and streamline the transfer of data from truck to agent to customer."
Clarity Enhances Agency Productivity at Bestway, Inc.
Landstar independent agency Bestway, Inc. was one of the beta testers for Clarity starting in 2020, and the agency now requires all of its staff to use the tool daily for shipment tracking. "Clarity allows our staff to track shipments in real time and quickly identify potential issues," says Independent Landstar Agent Bobby Schlieske, owner of Bestway. "This helps to improve efficiency in our operations by streamlining the whole shipment tracking process, which means we can spend more time focusing on booking new loads and providing excellent customer service."
Renetta Diede, operations director for Bestway, estimates that using Clarity the past two years has improved the agency's productivity by 50% and reduced the number of phone calls made to drivers and carriers from agency staff by a third.
"Our staff is busy and with Clarity they can quickly see where a truck is and if the delivery is on schedule. If it is, they can move on to something else. They don't have to spend extra time trying to reach the driver," she says.
"We promote Clarity to all of the approved carriers we use and many of them see the value and get set up in the system. Carriers and drivers are just as busy as we are and would rather not have to deal with all the check-in phone calls either," Diede continues. "Phone calls are important to build and maintain relationships with drivers and carriers, but when an average check-in call takes a half-hour just to get confirmation that a load was picked up, we're losing time and money – the agent and the driver."
According to Diede, Clarity also helps enhance interoffice communication for the agency, particularly between employees and their supervisors. The technology's "watch" feature allows users to prioritize and organize loads to monitor and automatically identifies shipments that are running late based on the anticipated arrival time. The comments section of this feature allows agency staff to add information about any issues the shipment has encountered, which can then be accessed by the rest of the agency team.
"As managers, we don't need to monitor every single load, but we do need to know the ones that are running late or that need attention," says Diede. "And if a staff member is at lunch or on another call, we can easily pull up the comments on a load to see if the issue has been addressed or if it needs addressing."
Clarity for Customer Service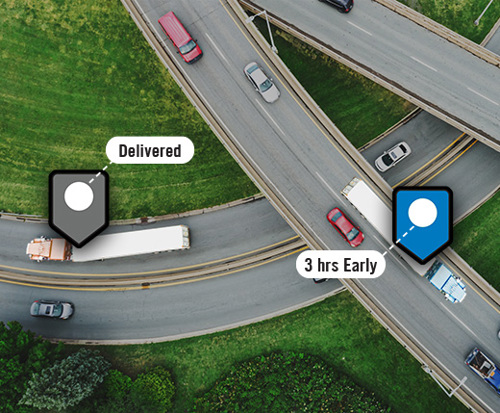 While designed to help agents and agencies manage shipment tracking, Clarity is at its core a customer service tool. "We never want a customer to ask where a shipment is because it is late. With Clarity, we can manage every segment of the shipment and inform our customers first," says Schlieske. "Reaching out to a customer with a solution before they even realize there is a problem can go a long way with helping to retain that customer in the future."
One of Clarity's customer-focused features is a sharable link that shows the real-time movement of their shipment. "The link is a great customer service tool, particularly for higher profile shipments or other loads that customers want to watch carefully," Diede says. "It helps to increase credibility with customers because they can see the movement of the load for themselves and not have to rely on us for updates."
As the demand for visibility continues to grow, Diede says that Clarity will help Bestway maintain repeat customers and land new ones. "Having a proven tracking system is a definite advantage for us as customer demand for access to real-time shipment tracking information becomes standard in the industry."
Clarity Features
Integrated automatic tracking for Landstar BCOs and third-party carriers

Location data from trucks updated every 15 minutes

Automatic geofence detection set at 500 meters around planned stops

Estimated delivery times based on actual truck routing and traffic conditions

Automatic notification if a shipment has an out-of-compliance status update

Customizable user interface with filtering options to prioritize and organize the Loads list

Sharable link for customers to view real-time shipment progress

Mobile optimization for use of the tool on the go