A cast-iron skillet is a familiar sight in many kitchens, but what about on the highway? Landstar BCO Joshua McCord says he got plenty of interesting looks from other drivers as he moved a 14,360-pound Lodge® cast-iron skillet on his platform trailer between Alabama and Lodge headquarters in South Pittsburg, Tennessee.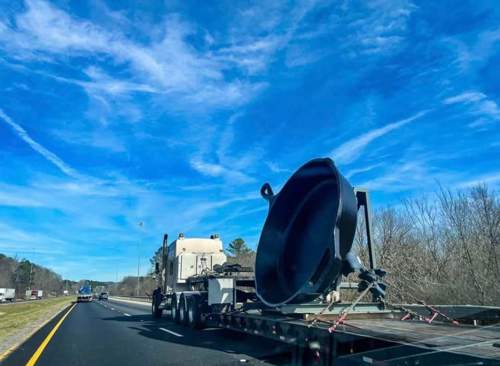 In January, Lodge Cast Iron, known for its cast-iron cookware, announced plans to open the Lodge Cast Iron Museum in late summer 2022. The skillet, which the company claims is the world's largest cast-iron skillet, will be one of the museum's attractions.
"It was incredible to see in person – not like anything I've ever hauled before," says McCord of the oversized cooking vessel, which Lodge also claims is technically functional. "I could tell that people were in awe of something like that coming down the road."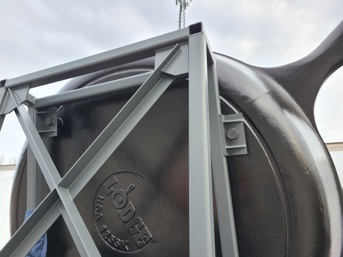 According to Russ Vincent with Landstar independent agency Interstar Transportation, coordinating the move of the skillet was quite a unique experience. "The skillet was poured as one solid piece and then bolted to a stand that weighed more than 3,000 pounds," says Vincent. "The stand with skillet was placed on Joshua's trailer using a forklift, and he carefully and expertly secured it. In all, the load weighed nearly 18,000 pounds."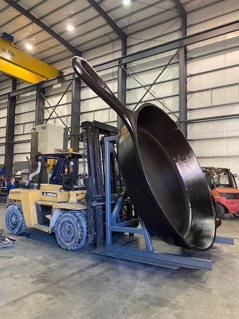 Members of the Lodge team were in attendance at the pickup and to follow along as the skillet made its way home. "This was not 'just another load' for the customer, but rather a special event that they wanted to take part in and document," continued Vincent. "Joshua did a great job ensuring that the freight was transported safely and securely, but also made sure it would look good for the camera! We greatly appreciated his efforts, and so did the customer."
To secure the special load, McCord drove to the foundry in Alabama a few days in advance to take exact measurements. On the day of the move, he ensured there would be no damage in transit by using "quite a few moving blankets" to wrap the chains in areas where they might rub or scratch the skillet.
"Once it was on the trailer, the total height was 14 feet, 3 inches tall from the top of the handle to the ground. Just the cooking area of the pan was 11 feet, 3 inches around, and it was about 18 feet across from handle to handle. You'd sure need a lot of chickens to have enough eggs to fill it!" joked McCord.
The route from the foundry to South Pittsburg was fairly direct along Interstate 59, but McCord did have to detour for about 60 miles in Alabama due to construction. He was escorted by a pole car to safeguard from any encounters with height obstacles along the way. The skillet arrived safely at its new home where it will be stored until making its official debut at the museum's opening.
It's fitting that cast-iron cookware is known for lasting a lifetime since this experience will be something McCord remembers for the rest of his life. "I'm just proud to have been a part of it," he says.