The Landstar All-Star Truck Giveaway
Landstar Million Mile Safe Driver and Roadstar® Bobby Jordan has placed a very special decal on the driver side door of his new Landstar blue Freightliner® Cascadia® 126 – a small, but conspicuous, housefly.
"Well, if it wasn't for a fly, I wouldn't have picked the winning box with the truck keys hidden under it," laughs Jordan as he recalls the events that led him to win Landstar's first-ever virtual truck giveaway event.
One of four finalists, Jordan eagerly participated in the truck giveaway via Zoom video conferencing from his home in Soso, Mississippi. While he listened to the instructions and kept his eyes trained on the boxes that appeared beside the event hosts, Jordan says there was a pesky fly buzzing around his living room. When it came time to select which of the four boxes Jordan thought contained the truck keys, the fly landed right on Jordan's computer screen and on the box marked with a "D."
"And that's how I picked box D, because of that fly. I didn't know what box to pick as we were going into the giveaway," says Jordan. "I was looking for a sign and when the fly landed, I went with it."
Later, during an interview about winning the giveaway truck, Jordan revealed his winning secret to Landstar Vice President of BCO Retention Gregg Nelson, who summarized it this way, "So you're basically saying, an insect that lives three days, changed your life!"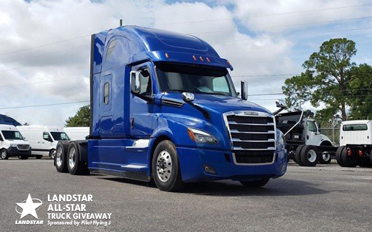 "Gregg made me laugh, but he was right, that fly changed my life. This new truck is going to allow me to take advantage of more opportunities at Landstar and to pull freight that my old truck couldn't," explains Jordan. "I lost the fly that landed on my computer screen after I finished the interview with Gregg. So, I turned to my family and said, 'no one is going to be killing any flies in here today!'"
Jordan says his family never found the fly that changed his life, but the legend of the fly will live on each time someone asks why there is a fly decal on the side of his new Landstar blue truck.
Bobby Jordan lives in Soso, Mississippi, with his wife Miche. Jordan leased to Landstar in 1982, he was named a Million Mile Safe Driver in 1993 and a Roadstar® honoree in 2001. In July 2020, the Jordans traveled to Landstar headquarters in Jacksonville, Florida, to pick up Bobby's Freightliner® Cascadia® 126. When they arrived they were greeted by Landstar President and CEO Jim Gattoni, who from a safe social distance, ceremoniously tossed Bobby the keys to his new truck! 
About the 2020 Landstar All-Star Truck Giveaway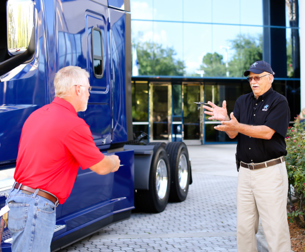 The Landstar All-Star giveaway truck is exclusively reserved for a Landstar Million Mile Safe Driver or Landstar Roadstar® honoree. Traditionally awarded during the annual Landstar BCO All-Star Celebration, for the first time ever the annual truck giveaway took place virtually via Zoom video conferencing.
Landstar Million Mile Safe Driver and Roadstar Bobby Jordan was one of four eligible finalists selected randomly from a pool of Landstar's active 1 Million Mile, 2 Million Mile and 3 Million Mile Safe Drivers and Roadstars. The Landstar Roadstar designation is the term used for Landstar's highest honor for truck owner-operators awarded to the "best of the best" based on their high levels of safety, productivity and excellence. The 2020 All-Star Truck Giveaway, sponsored by Pilot Flying J, marked the 41st truck giveaway in Landstar's 32-year history as a company.