Landstar Gives in 2018
As 2018 comes to a close, Landstar would like to thank the many employees who take time each year to support the communities in which the company operates.
Throughout the year, Landstar employees in Jacksonville, Florida, and Rockford, Illinois, show their support through dozens of fundraisers, clothing and food drives, and volunteer opportunities at community events.
A World without Cancer
Landstar employees in Jacksonville spent 2018 fighting cancer as they raised funds to benefit the American Cancer Society's Relay for Life. The Landstar company team in collaboration with the fundraising efforts of individual employees helped to raise $8,985.  The efforts helped the Relay for Life of Southeast Jacksonville achieve its overall fundraising total of $42,919 in 2018.
Strengthening Hearts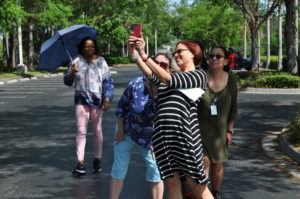 Employees in Rockford and Jacksonville stepped up to raise awareness about heart healthy lifestyles in support of the American Heart Association (AHA). In 2018, the employees who participated in the AHA's annual Heart Walk and National Walking Day events raised $1,500 for the organization.
The Gift of Life
Landstar employees have done their part to help save lives through blood donations for more than 20 years. By rolling up their sleeves in 2018 and donating blood, dozens of employees in Jacksonville and Rockford helped save 487 lives. Blood drives were held at the respective locations throughout the year with employees' donations making a big difference for the local blood banks in their areas.
Baby Steps
Landstar's annual March of Dimes® fundraiser brought in more than $650 to help Northeast Florida moms and premature babies this year.  Each year, Landstar employees have participated in the organization's annual March for Babies® event. Since 2015 Landstar employees have raised more than $4,500 for March of Dimes.
Bingo!
It may sound like a lot of fun and games, but employees did some serious fundraising during 2018. Landstar's annual fundraising efforts and bingo event resulted in a $50,000 donation to the 2018-2019 United Way campaign.
Counting Cans
Landstar's annual holiday food drives benefit hundreds of less fortunate families in Jacksonville and Rockford each year.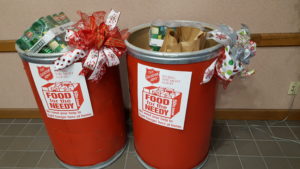 In Jacksonville, 5,321 donations in the form of cash and canned goods were collected throughout November. The majority of the food items are hand-delivered by employees to families throughout Duval County, and any extra items collected are donated to local food pantries.
In Rockford, two large barrels of non-perishable goods were collected. The annual food drive in Rockford supports The Salvation Army, providing meals for families and individuals in need. 
School Support
Through various efforts during the year, employees in Jacksonville and Rockford collect school supplies, clothing, food and money to support Rockford and Duval County Public Schools, and Jacksonville's Child Guidance Center.
Santa's Helpers
The holiday spirit can be found throughout Landstar as employees do their part to support the company's Adopt-an-Angel program.  Thanks to Jacksonville employees, 120 children received gifts during the 2018 holiday season.
Rockford employees provided gifts to 50 foster care children in the immediate area through the Adopt-an-Angel program. Other donations by employees went toward the purchase of gifts and 120 bicycles which were delivered to the Child Guidance Center for distribution to children in need.