Landstar Honors Employees with Achievement Awards
Landstar awarded two long-time employees with the company's highest achievement awards at the 2019 Landstar Annual Agent Convention.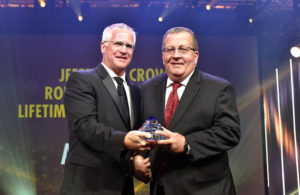 Landstar Transportation Logistics Vice President of Settlement Oversight Andy Staier was awarded with the Jeffrey C. Crowe-Robert E. Zonneville Lifetime Achievement Award. The annual honor, first presented by Landstar 25 years ago, is awarded each year to an employee who not only succeeds at Landstar, but also helps others succeed along the way.
In his 45 years of employment with Landstar companies, Staier has held 10 different positions, including Director of Revenue Processing and Vice President of Contractor and Agency Services. During his career Staier has supported thousands of independent business owners in their success at Landstar.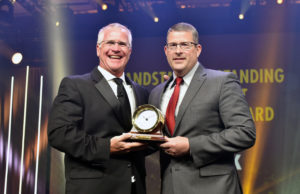 Landstar Transportation Logistics Vice President of Business Intelligence & Analytics Ty Clark was honored with the Landstar Outstanding Management Achievement Award. Candidates for this award are nominated by Landstar senior management based on their effective leadership, managerial skills, contributions, efficiency and productivity.
In his 9 years at Landstar, Clark has led the group responsible for the development and launch of many Landstar technology business solutions for customers, agents and owner-operators including agent analytics and pricing tools, and mobile applications such as the Landstar Maximizer® app for owner-operators. Clark's leadership skills and strategic thinking help drive Landstar's proprietary technology tools forward while supporting independent agents and owner-operators in the highly competitive transportation industry.