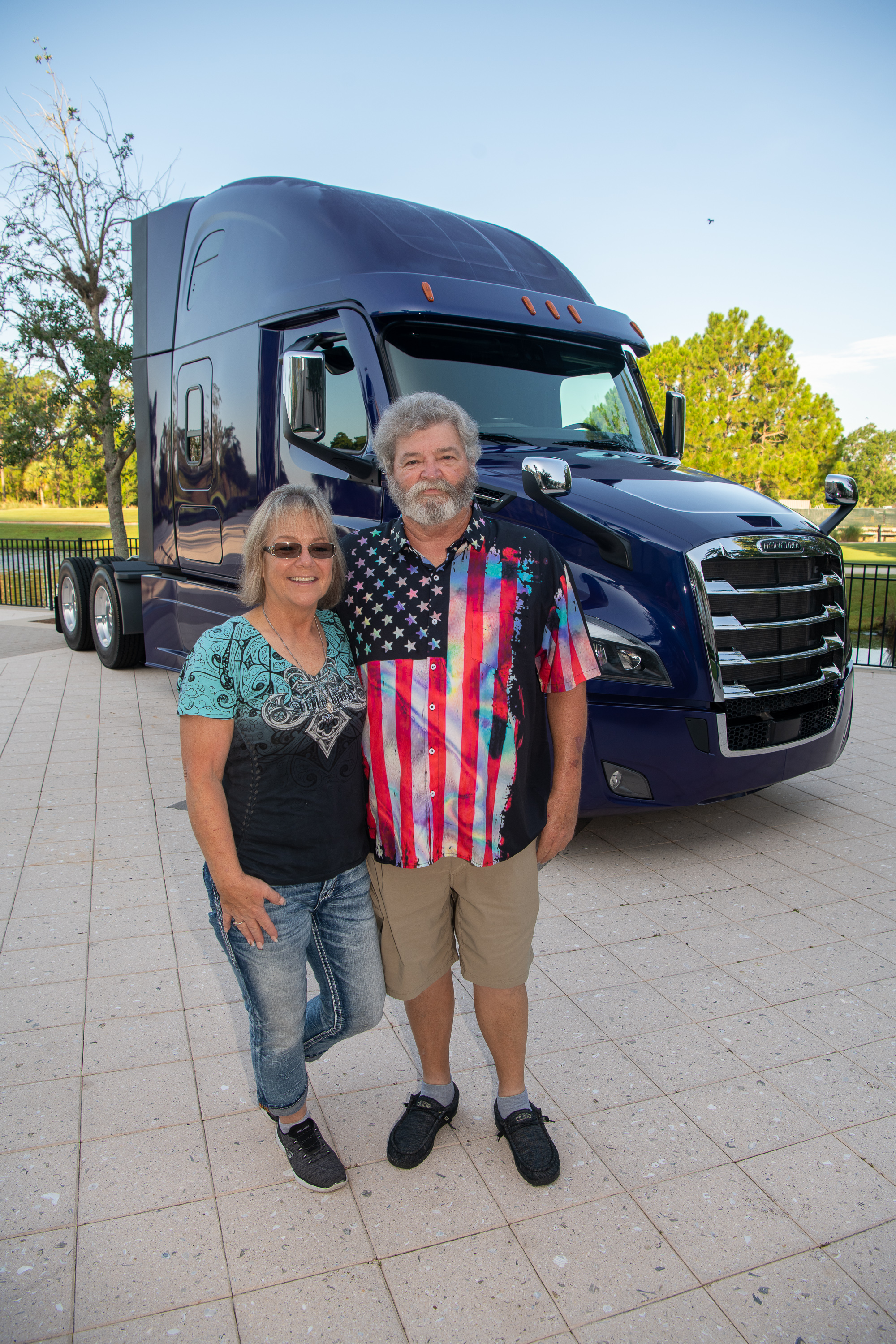 Landstar awarded a new 2024 Freightliner® Cascadia® truck to Million Mile Safe Driver Willie Mixon of Quitman, Mississippi. The annual truck giveaway is the highlight of Landstar's BCO All-Star Celebration in Orlando, Florida.
The All-Star Truck Giveaway is exclusively reserved for Landstar Million Mile Safe Drivers and Roadstar® honorees – the designation awarded to the "best of the best" for high levels of safety, productivity and excellence in customer service. Each of the truck owner-operators has driven at least one million consecutive miles with Landstar without a preventable accident. It is the 47th truck Landstar has given away in its history and the 10th truck given specifically to a Landstar Million Mile Safe Driver or Roadstar. This year's truck was sponsored by Comdata and the prize includes all registration fees and taxes paid by Landstar.
"We are pleased to continue the annual tradition of giving away a new truck to one of Landstar's best and safest owner-operators. The safety-first mindset of Landstar independent owner-operators who have reached the Million Mile Safe Driver and Roadstar milestones deserves to be celebrated. I can't think of a better way to celebrate than to give away a new truck, and Mr. Mixon is a wonderful recipient," said Landstar President and CEO Jim Gattoni.
Mixon, who was named a Landstar Million Mile Safe Driver and Roadstar® honoree in 2014, has been leased on to Landstar for 19 years. He's a team driver with his wife, Jackie Mixon, who is equally excited about the new truck.
Earning the opportunity to be in the pool of more than 1,000 eligible Landstar Million Mile Safe Drivers is no accident, but actually winning the truck is pure luck. Mixon was one of four finalists randomly drawn from the pool of eligible Landstar owner-operators. Then, on stage at the ceremony, the finalists each selected one of four boxes, one of which contained the key to the new truck. Upon winning, Mixon told the audience that he thanked God and all the people at Landstar.
Landstar was pleased to welcome Comdata Vice President of National Accounts Patrick Franz to the stage to help with the All-Star Truck Giveaway and personally congratulate Mixon on his big win. "We appreciate the contributing support of our sponsor companies, like Comdata, in helping us reward an independent owner-operator's service excellence with a chance to win such a life-changing prize," Gattoni said.
About Comdata:
Comdata Inc., a FLEETCOR company, is a leader and innovator in commercial payment solutions, driving actionable insights from spending data, building enhanced controls to protect clients' interests, and positively impacting day-to-day operations for fleet owners and managers and drivers in the trucking industry. Founded in 1969 in Brentwood, Tennessee, Comdata has proudly supported the life-impacting trucking industry for over 50 years. To learn more, visit www.comdata.com.