Landstar Names Independent Agent Tammy Clark as Safety Officer of the Year
Landstar named Tammy Clark, owner of independent Landstar agency SJA Transport Services, LLC in Stoneboro, Pennsylvania, as its 2021 Landstar Safety Officer of the Year.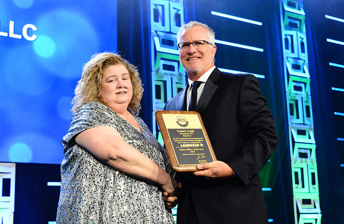 Landstar Transportation Logistics Executive Vice President of Safety, Compliance & Trailer Management Matt Miller announced Clark as the winner during a ceremony held April 8, 2022.
Clark is committed to fostering a strong safety culture at SJA Transport Services by developing personal and professional relationships, taking the time to listen and demonstrating an ongoing commitment to helping others. For more than 20 years, her agency has hosted the annual Stoneboro, Pennsylvania, Safety Meeting for Landstar business capacity owners (BCOs), what the company calls truck owner-operators leased to Landstar. Clark also organizes an annual driver appreciation dinner the night before the meeting. Her agency staff participates in the monthly Landstar Safety Thursday Conference Calls, and the agency utilizes BCO capacity more than 98% of the time.
"Tammy has demonstrated her commitment to Landstar's safety-first culture for over two decades, and I am honored to present her with this award," said Miller. "Her agency staff promotes safety initiatives like Landstar's Complete and Accurate Dispatch process to support customers and capacity providers in safe operations. Safety officers with dedication, like Tammy, are key to making Landstar a safety-first transportation solutions provider."
Each month, Landstar names one Landstar Safety Officer of the Month, from which the Landstar Safety Officer of the Year is selected. Clark, like the 11 other LSO of the Year finalists in 2021, leads an independent Landstar agency with an impeccable safety record and a staff that continuously looks for ways to improve.
Each of Landstar's approximately 1,200 independent agent locations names an individual responsible for the safety performance of the agency. The designated Landstar Safety Officer promotes safe, secure and compliant driving, participates in Landstar's network-wide monthly Safety Thursday Conference Call and supports customer safety initiatives.