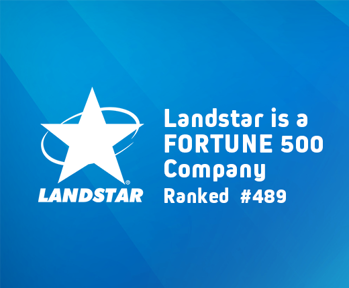 Landstar announced today that it was again named to the Fortune 500 list of America's largest corporations by revenue. With revenue of approximately $7.4 billion in fiscal year 2022, another annual record for the company, Landstar landed at number 489 on the list.
"Landstar's financial performance in 2022, coming off a record-setting 2021 fiscal year, was truly outstanding, and helped earn this prestigious ranking," said Landstar President and CEO Jim Gattoni. "The Company's 2022 achievements speak to the strength and resiliency of the Landstar network and the power of our unique agent and capacity network to execute."
Empowering the entrepreneurial drive of independent freight agents and capacity has earned the trust of customers and created a long history of financial success. Since its initial public offering in March 1993, Landstar annual revenue has increased over 600% and the Company has achieved a total shareholder return compound annual growth rate through May 18, 2023 of approximately 17%.
"Congratulations to everyone who contributes to Landstar's success each day. Making the Fortune 500 list is a team effort, and we thank all of our independent agencies, owner-operators leased to Landstar, approved third-party carriers, customers and employees for all of their hard work and help in achieving this milestone once again," added Gattoni.
The Fortune 500 annual list, compiled and published by Fortune magazine since 1955, ranks the largest U.S. companies by total annual revenue for their respective fiscal years. For the complete Fortune 500 list, visit www.fortune.com/fortune500.