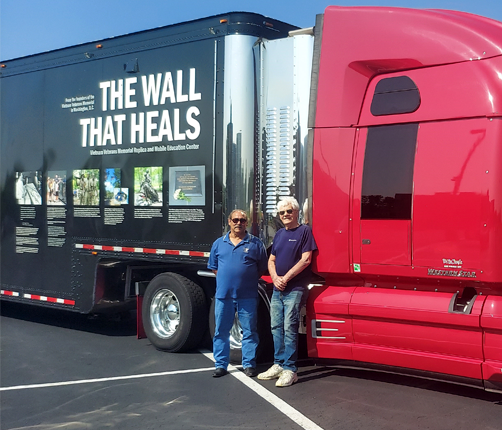 Traveling to the Vietnam Veterans Memorial in Washington, D.C., isn't always an option for those who want to see it and honor a comrade or a loved one's memory. But thanks to the Vietnam Veterans Memorial Fund (VVMF) and truck drivers like independent Landstar owner-operator Mark Winhoven, the memorial can come to them instead.
The VVMF is committed to sharing the legacy of those who served in the Vietnam War through education and preservation. One of the organization's most prominent projects is The Wall That Heals, a scaled-down version of the Vietnam War Memorial that travels coast-to-coast in a series of trailers. The mobile replica was built in 1996 and is roughly three-quarters the size of the original memorial. March 2023 officially marked the launch of its 28th tour season.
A veteran himself, Winhoven has long admired the project. He first signed up to help haul the replica two years ago, albeit schedule conflicts kept him from lending a hand. According to Winhoven, the project is booked with drivers months ahead of time. As a result, he didn't sign up this year because he knew the volunteer slots for the season would already be full. So, when project coordinators reached out in late June 2023 to tell Winhoven that one of their summer drivers had suddenly pulled out of the lineup, he was more than willing to step up.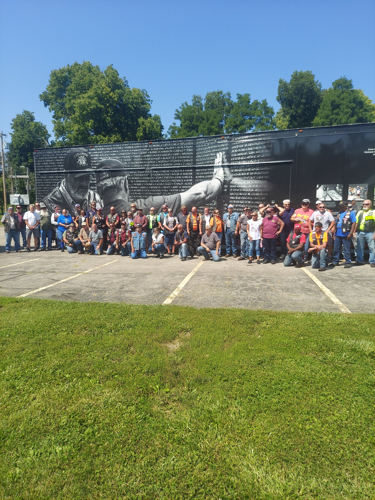 On Aug. 13, Winhoven was ready in his 2016 Western Star 5700 to pick up The Wall That Heals in Seymour, Indiana. That next day, he drove by Landstar's field operations center in Indianapolis, Indiana. The next stop was to be in Middletown, Indiana, but not until Aug. 24. So, with permission from the VVMF and other community leaders, he decided to display The Wall That Heals at his hometown in Springfield, Ohio, at both a Veterans Affairs office and a local church. However, he decided to arrive early enough in the morning so that nobody would know he was the one setting it up.
After all, he didn't want credit; he wanted The Wall That Heals to have all the attention it deserves. "It's an honor. Honestly, just being a part of this is the most memorable part," he said about participating in the traveling tribute. "It's great to see people looking. They take time and they read, and it's really cool to see that." He says their reactions make his volunteer effort even more satisfying.
"I'm not making a penny. I'm doing my part," Winhoven affirmed. "I donated my time, my fuel and everything that goes with it. I'm proud of it."
The Wall That Heals will conclude its 2023 season in Nags Head, North Carolina, on Nov.19. To find out if The Wall That Heals is coming to a community near you, you can check out the tour schedule on the VVMF website.