Landstar BCO Rosemberg Villarreal was one of five finalists, randomly selected from more than 217,000 entries during the 2019 Deliver to Win Truck Giveaway contest period (Jan. 1, 2018- Nov. 30, 2018). During each contest period, BCOs earn entries for the truck giveaway by hauling safe and compliant loads. Additional entries are earned by participation in Landstar safety meetings, events and business classes.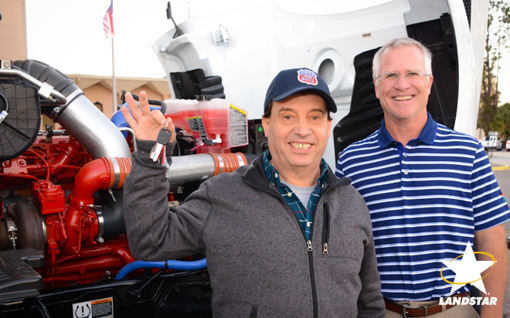 When it was time for the 2019 Deliver to Win Truck Giveaway at BCO Appreciation Days, host Landstar Transportation Logistics Vice President of BCO Retention Gregg Nelson led each of the five finalists through the audience to the stage. He asked each owner-operator a different question. Randomly, Nelson asked Landstar BCO Rosemberg Villarreal to show the crowd his best moves. Villarreal immediately obliged, dancing his way to the stage.
"I did the 'oh baby' dance of course," recalls Villarreal, demonstrating how he stretches his arms overhead, claps and spins them around, while singing, "oh baby, oh baby, oh baby."
Villarreal says he did that same dance to cheer up his children whenever they were sad. It seems the "oh baby" dance, as Villarreal calls it, brings a smile to kids of all ages – even the finalists who weren't lucky enough to win a new truck.
Villarreal says, aside from his winning dance moves, he knew he was destined to win the 2019 Peterbilt UltraLoft.
"Landstar called me on my birthday to tell me I was a finalist for the truck giveaway," says Villarreal. "I made a birthday wish to win."
Once the five finalists chose the box they hoped hid the truck keys, Villarreal's confidence grew. "I cannot explain it other than an overwhelming feeling that I would find the keys under the box."
The finalists were instructed to lift their boxes to reveal either a Comdata card worth $500 or the grand prize.
"Oh baby!" Villarreal shouted and danced when he found the keys. "I told my wife to pinch me, but this all really happened. I cannot stop smiling," says Villarreal. "A new truck is an incredible birthday gift, one that will change our lives and is definitely something to dance about."

Truck Safe Technology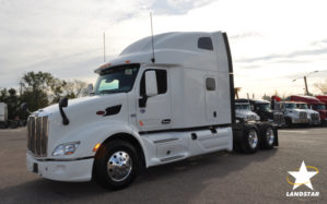 The 2019 Peterbilt 579 UltraLoft giveaway truck was the first of Landstar's 39 giveaway trucks to be equipped with a comprehensive driver assistance system. The Bendix® Wingman® Fusion™ integrates advanced safety technologies into a driver assistance system that is touted by its maker to offer drivers a new level of safety.
The system fuses together data from multiple technologies that are constantly gathering, sharing and confirming information in order to alert a driver of potential road debris, impacts, lane departures and speed limitations.
The system, which includes an electronic stability program, collision mitigation technology and a lane departure warning system, uses input from radar, video and the brake system to create a highly detailed data picture.
For more information about Bendix Wingman Fusion visit www.bendix.com.