Only two months after its release, more than 8,500 owner-operators are using the LandstarOne™ mobile app to save money and make better business decisions. With daily fuel searches exceeding 146,000, the mobile technology is making a positive cost-savings impact for Landstar independent business capacity owners (BCOs)*.
"The fuel feature on LandstarOne helps me make better decisions because I know exactly what I'll have to pay," says Landstar BCO Greg Huggins. "It's quicker than checking multiple sources and doing the math to figure out my fuel savings and IFTA credit."
According to ATBS, an accounting, bookkeeping and tax company for professional truck drivers, fuel costs are one of the largest expenses for most owner-operators.
"The app instantly provides accurate information on fuel prices across state lines, which takes a lot of the guess work out of my trip and fuel planning," added Huggins.
Some independent owner-operators leased to Landstar have reported saving up to $90 each time they fill up, since using the mobile app.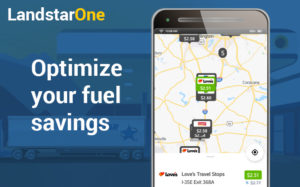 LandstarOne™ is a portal for all of Landstar's exclusive mobile applications and is designed as a one-stop business tool for owner-operators. In addition to the app's fuel search feature and IFTA tax information, LandstarOne provides access to:
Thousands of available loads on Landstar's load board
Preferences for Load Alerts® notifications
Reviewing and creating back-to-back loads for multi-leg full week runs through the Landstar Maximizer® tool
LandstarOne is available for download for iPhones in the App Store or for Android phones on Google Play. Once downloaded, BCOs can access the mobile app using their LandstarOnline username and password. If you have questions about the LandstarOne app, please email LandstarOne@Landstar.com.
*Business capacity owner (BCO) is Landstar's term for independent owner-operators exclusively leased to Landstar.