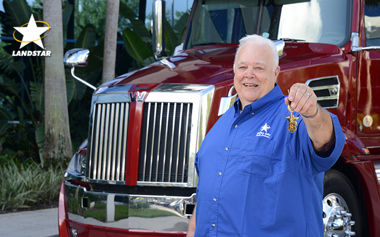 Landstar gave away a brand new rig in the Landstar All-Star Truck Giveaway powered by Comdata and Western Star. Landstar Million Mile Safe Driver Dickie Penrod was the lucky winner of the 2017 Western Star 5700XE tractor with a proprietary Detroit powertrain and a 68" High Roof Stratosphere sleeper.

The random drawing and giveaway was the highlight of the 6th Annual Landstar BCO All-Star Celebration held July 6 – 8 at the Gaylord Opryland Resort & Convention Center in Nashville, Tennessee.

The giveaway truck, a red pearl 2017 Western Star 5700XE, was exclusively reserved for a Landstar Million Mile Safe Driver or Landstar Roadstar driver, the company's highest honor for business capacity owners (BCOs). BCO is Landstar's term for the independent owner-operators who provide the company with transportation capacity under exclusive lease arrangements.

"Landstar is very proud of the safety-first professionals who make up Landstar's unique system of independent owner-operators, sales agents and customers," said Landstar President and CEO Jim Gattoni. "We're pleased to have the contributing support of companies like Western Star and Comdata as Landstar rewards positive driver behavior with a chance to win such a grand prize."

"Landstar is a valued partner of Western Star Trucks and we are excited to support them in their quest of driver safety," said Western Star Trucks' On-Highway Marketing Manager Mike Guarino.

The winner, Dickie Penrod of Fayetteville, North Carolina was one of eight semi-finalists drawn by random computerized name generators. Penrod leased on to Landstar in 1999 and was named a One Million Mile Safe Driver in 2008.

"It is an honor to help an owner-operator. Watching his reaction when he won the truck is extra special and rewarding. We love the partnership and ability to continue to bring value-added solutions to Landstar and its BCO and agent base," said Comdata Chief Operations Officer Randy Morgan.