Million Mile Safe Driver Wins New Truck
Landstar System, Inc. gave away a new truck during the Landstar All-Star Truck Giveaway powered by Pilot/Flying J and Western Star. Landstar Million Mile Safe Driver David Zelsdorf was the lucky winner of the 2019 Western Star 5700XE tractor spec'd with a Detroit™ DD15®, 14.8L engine and a Detroit DT12™ automated manual transmission.
The random drawing and giveaway was the highlight of the 7th Annual Landstar BCO All-Star Celebration held July 1-3 in Savannah, Georgia. Each year, Landstar gives away a truck, including all registration fees and taxes, to one of its Million Mile and Roadstar® safe truck owner-operators.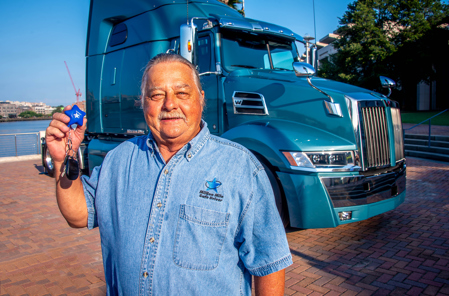 The winner, David Zelsdorf, of Albertville, Alabama, was one of eight semi-finalists randomly drawn from 989 eligible business capacity owners (BCOs), Landstar's term for independent truck owner-operators who provide transportation capacity under exclusive lease arrangements. Zelsdorf leased on to Landstar in 1997 and was named a One Million Mile Safe Driver in 2007.

"We are proud of the safety-first owner-operators who are leased to Landstar, especially those who have reached the Million Mile Safe Driver and Roadstar milestones. Landstar is pleased to continue the tradition, which started in 1994, of giving away at least one new truck each year to one of our BCOs," said Landstar President and CEO Jim Gattoni. "We also appreciate the contributing support of our sponsor companies Pilot/Flying J and Western Star in helping us reward service excellence with a chance to win such a life-changing prize."

Representatives from the contributing sponsors Pilot/Flying J and Western Star were on-site at the event, drawing the names to narrow down the eight semi-finalists to the four finalists who appeared on stage for the final round of the giveaway.

"It is a true honor to support these independent owner-operators. We are proud to be a part of this great event to reward Landstar's top-notch BCOs with a chance to win such an incredible prize," said Pilot/Flying J Vice President of National Accounts & Strategic Sales Ethon Stanford.

Western Star Vice President of Marketing and Product Strategy Samantha Parlier commented, "Western Star is proud to support Landstar in their annual truck giveaway for this exclusive group of owner-operators. We're pleased that Landstar chose the Western Star 5700XE as the prize, and we know the winner will appreciate the truck's style and power and will love driving it."