Moving Truck-Racing History
The Bandag Bandit is a piece of truck-racing history, proudly displayed at the world's largest truckstop in the Iowa 80 Trucking Museum. Drivers may talk about seeing the truck on display in Walcott, Iowa, but few can boast about hauling the famous racing truck that set a land speed record of 151 mph in 1988.

Little John Transportation Services (TLJ) Account Manager Mike Benthin says when the customer, Bridgestone, contacted him about moving the truck, he knew the Landstar agency could easily arrange the needed transportation services from Iowa to Florida.

"The Bandag Bandit was handled like every other piece of freight that is moved through our agency, with safety, professionalism and care. That's just how we operate," says Benthin.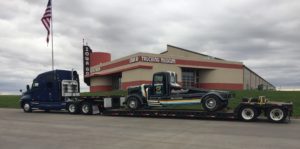 Landstar business capacity owner (BCO) Jeff Coffman was the lucky BCO to haul the 1978 Kenworth with a 1300 horsepower twin-turbo diesel engine. The BCO, who leased on with Landstar in 2014, says he was surprised with an honor beyond just transporting the truck.

"When I arrived, they realized they didn't have anyone to move the truck into the facility," says Coffman. "It just worked out that I was the only person there who could actually drive it. So, I got to drive a piece of history!"

For more information on Landstar's services, click here to request a quote.