Operation Logistics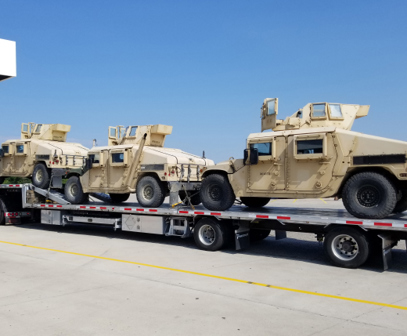 Supporting the United States military is part of daily operations at Lee's Services and Storage LLC. The independent Landstar agency, established in Kentucky in 1985, has more than three decades of experience moving multi-load projects for the Department of Defense (DoD).
"We take pride knowing we are supporting our country and military," says agency manager Patrick Shrewsbury. As a Navy Veteran, Shrewsbury says whenever the military needs logistical support, the agency is ready and he is honored to serve.
"When we use Landstar for these operations we know there will be no issues," says U.S. Army Major Travis Coates. "With multi-load operations, there are always a lot of loads that have to go out in a certain period of time. Landstar makes that happen." 
"The most recent load we managed with Major Coates was a training move for the United States Army which required 77 trucks," explains Shrewsbury. "The DoD trusts their freight and this very important equipment to Landstar BCOs (independent business capacity owner-operators leased to Landstar)."
The operation called for 65 BCOs experienced in heavy/specialized movements to transport 300 Humvees and 12 BCOs to haul government-issued pods containing high-value training equipment from Camp Atterbury, Indiana, to Little Falls, Minnesota.
While the scope of the project was massive, the window in which to complete the multi-load mission was just three days.
"This project had a lot of moving pieces and it had to happen quickly. Once we secured capacity, we turned back to Landstar corporate for support," says Shrewsbury. "Together, we created a load plan for each truck. Also, we had two Landstar employees fly to Camp Atterbury to act as on-site project managers."
The day before operations began, Landstar employees Robert Dugger and Matt Elliott scouted Camp Atterbury for the most efficient location to organize the loading of about 25 trucks at a time.
"There were no issues during the three-day operation to Minnesota," says Major Coates. "All of the drivers had correct paperwork. There was great communication throughout. It was a seamless operation. Landstar made it happen."
"Our communication on this move and Landstar's support simplified the chain for the customer," says Shrewsbury. "Every Landstar BCO on this project was outstanding and the feedback we received was 100% positive. As with every military operation, we are proud to provide the United States Army our support."
For more information on Landstar's services, click here to request a quote.