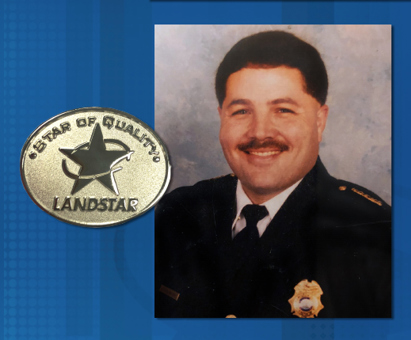 When Mark Fullbright recounts the events that earned him a Platinum Star of Quality Award from Landstar in December, he says he thinks about the many circumstances involved that put him in the right place at the right time to save a woman's life.
After Fullbright completed his weekly dedicated run to Cleveland, Ohio in December 2019, he began the trip home to Portland, Tennessee, taking his normal route through Kentucky.
"I know the run like the back of my hand. There's a turn in the road as I drive through Elizabethtown, Kentucky, and as I was making that turn around the bend, I saw the reflection brake lights, so I slowed down," recalls Fullbright. "Once I made the turn, I saw the accident – multiple vehicles, dust, fire and smoke, and various car parts going through the air and landing in the roadway."
A former firefighter, paramedic, tactical- and flight-medic, Fullbright keeps his certifications and training up-to-date in case there is ever a situation in which he can offer assistance. That's why Fullbright says he didn't have to think twice about grabbing his fire extinguisher and safety vest before getting out of his truck to help with the accident. 
"When I got out of the truck, I saw the flames coming from the car and knew we needed to remain calm, but hurry to help. There was another driver getting out of his truck and he said, 'I don't know if one extinguisher will be enough to get this fire out'," Fullbright explains. "I told him, together we can help these people. With both of our fire extinguishers we were able to control the fire and pull a woman from her car to safety."
While they waited for local police and fire rescue to arrive on the scene, Fullbright says he and the other driver worked together to keep people in the area calm.  
"My background and experience helps me stay calm in situations like these and lead others to do the same. It is just second nature for me to do that," says Fullbright. "Once help arrived, the accident victims were transported via helicopter to local hospitals. The woman we pulled from the burning car made a full recovery."
After the accident, the victim's mother contacted Landstar to commend Fullbright and to request he receive Landstar's Star of Quality award for his life-saving actions.
"Helping others in any situation like this is just what I do," says Fullbright. "It is in my nature to lead by example and get help to those who need it."
Fullbright has been in contact with the family of the woman who recovered since the accident and has accepted an invitation to lunch in his honor. When that happens, Fullbright says he plans to give the survivor the empty fire extinguisher he used to put the car fire out and save her life.