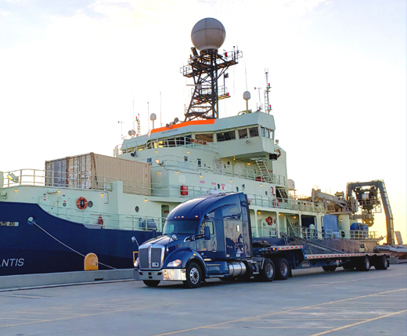 "Taking her to Long Beach, California," wrote Landstar BCO Nelson Suarez in his social media post of breathtaking photos of his 2016 Kenworth T-680 parked in front of Atlantis, an oceanographic research vessel in Gulfport, Mississippi.
"The load was 'Alvin', like the chipmunks," Suarez laughs. "No, not a chipmunk, but that's how I remember the name. It's a human occupied submersible that goes into the ocean and collects data. I'm told it's a robot that does things like explore underwater volcanoes and hydrothermal vents in the ocean."
According to the National Oceanic and Atmospheric Administration (NOAA), when Alvin - a human occupied vehicle (HOV), is launched from research vessel Atlantis, it can dive up to 2.8 miles and spend up to 10 hours exploring.
"It was a really neat load, and oceanography is something that really interests me," says Suarez. "Understanding what I am carrying and how it will impact mankind is really one of the best parts of being an owner-operator."
A Landstar BCO since 2014, Suarez says hauling unique freight and learning about it has become more like a hobby than a way to earn a living. "Learning about the unique freight I haul makes it all more interesting. I really enjoy Landstar for that reason, because learning new things is something I get to do a lot." 
Arriving safely in California, Alvin was unloaded from Suarez' 51-foot Landstar stepdeck trailer and readied for the next leg of its journey. 
"Alvin's ultimate destination after my delivery was Fiji," says Suarez. "So, something I transported will soon be exploring underwater volcanoes on the ocean floor near Fiji – and that's freight you don't forget."
For more information about Landstar's services, request a quote here.