By Rocco Davanzo EVP, Capacity Development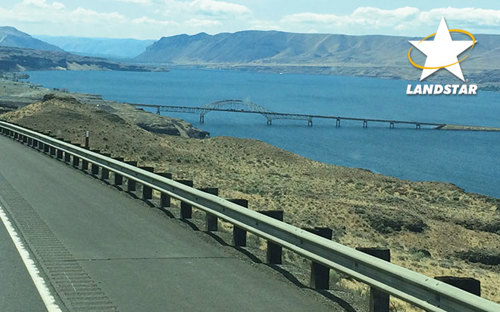 Landstar BCO C.J. Moore and I have known each other – or at least known of each other – for 15 years, going back to when we were both coaches in our kids' flag football league in south Jacksonville in the early 2000s. I called C.J. in May and he agreed to allow me to ride along with him this summer on a run he had made before – Lorain, Ohio to Everett, Washington, for Landstar Agent Pat Frankovich of R&R Transportation. This gorgeous route was one I'd always wanted to see.

I thought I had it all planned. The load was to pick up in Cleveland on Wednesday and deliver in Seattle on Sunday. On the way, it would pass through my hometown of Rochester, Minnesota. I would jump aboard there and ride the rest of the way to Seattle. No sweat.

I should tell you, I am a planner with a deeply rooted belief that success in any endeavor is the by-product of a well-designed and well-executed plan. I have a plan for waking up (the alarm rings at 4:21 a.m., I get one 9-minute snooze period, then out of bed at 4:30 a.m.), a plan for my shower (wash, shave, rinse), and a plan for my morning (two cups of coffee, two newspapers, one kiss for my wife). If I'm going to do it, there is going to be a plan.

So, I began planning. After some back-and-forth discussions, it was agreed: C.J. would pick up in Lorain late Wednesday, grab me in Rochester late Thursday and deliver in Everett on Sunday. Easy, right? Right.

On Wednesday morning, C.J. informed me that the load he was going to take toward Lorain was held up in Customs and he was not going to get to Ohio in time to pick up Wednesday. No problem, I think, he can still pick me up Friday morning instead of Thursday. A few hours later, the load was still hung up in Customs so he was deadheading to Lorain in order to stay on schedule. Finally, C.J.  sends me a text for the pick up, saying he'll see me around noon on Friday, and I begin to understand the difficult life of the over-the-road trucker. It really isn't a big deal whether he picks me up Thursday or Friday, but what if he were trying to make it home for a birthday or anniversary? My eyes are opening.
Friday, July 15
Friday morning I take a taxi from my hotel to the truck stop where we agreed to meet. I'm early, but there's a picnic table in the shade and I wait there with my backpack and duffle bag. I get a few suspicious looks from passers-by and one "saint" asks me if I've been abandoned, but after 30 minutes, C.J. rumbles up in his Freightliner and we're off.

I quickly try to put C.J. at ease by telling him a few things: I'm not wearing a wire, or a hidden video camera. I'm not here to spy on him, I'm here to experience, if only for a few days, what our BCOs experience every day, and I'd like to help in any way possible, however small.

In what we refer to over the next several days as my "One Thing to Do," C.J. asks that I record the mileage as we cross the state borders. Well, even I can do this! I set to making a plan to remember my "One Thing to Do."

It's not quite lunchtime, so we decide to travel for an hour down Interstate 90 to the Petro Stopping Center in Albert Lea where we can take his required 30-minute break and get lunch. At the Petro, I am rendered speechless as C.J. effortlessly swings his 70-foot rig around the parking lot and backs into a space with less difficulty than I have trying to push the lawn mower back into the garage.

Back on the road after lunch, I ask C.J. where we'll stop for the night (I do not tell him how much my planning-obsessed psyche needs this information…why alarm him now?). He thinks we can make Rapid City. I whip out my iPhone, get the miles to Rapid City, do some quick calculations and see that he's right. In my original plan, I thought Rapid City was a logical stopping point for Friday so, I'm back in control of my destiny. I relax and start to look around.

One of the things I notice is the ELD and its clock counting down. While I'm sure there are times when that clock can seem like it's working against him, C.J. says it actually makes things easier. Using a combination of the ELD's big, bold, easy-to-read-at-a-glance digits and the highway mile-markers, we can determine – every mile if we want to – whether we're remaining on schedule to make our hoped-for destination for the night.

Some two-and-a-half hours down the road, we cross the Minnesota-South Dakota border. Remember that single responsibility I was given for this trip? I promptly failed at my first opportunity.

"You had One Thing to Do, Davanzo!" chides the captain and I sheepishly back into the right number using the current odometer reading and mile markers. After another break to stretch our legs, I notice the time – 5 p.m. – and it occurs to me that all across America, people are getting ready to leave their offices to start their weekends, but C.J. has four hours left in his day. For C.J. and thousands of other Landstar BCOs, this "adventure" that I'm on with inconsistent hours is daily life for them.  A lesson worth remembering and sharing with others.

As we approach Rapid City, I get a kick in the pants. The interstate is two lanes in each direction and we're approaching an on-ramp. We're in the right lane, there is a car in the left lane and a pick-up truck coming down the ramp to get on the interstate. C.J. correctly maintains his speed, about 8 MPH lower than the posted limit, to allow the pick-up truck driver on the ramp plenty of room and time to pull ahead of him. Unfortunately, the pick-up truck driver doesn't see it this way…he slows down instead and swings in behind us. He then whips out into the left lane, passes us, swerves back into the right lane in front of us and jumps on his brakes. This scares the (edited) out of me and I'm not even driving. C.J. reacts professionally, slows down and lets the "clown" continue on his way. He says he sees that a lot in large cities, but did not expect it out here. I am amazed and my eyes are opened further. I can imagine the aftermath had he not slowed in time. Not only was my imagined scenario ugly, but I imagined the driver of the pick-up truck pointing fingers at the big truck afterward, as if he were not to blame. Scary.
Saturday, July 16
We wake up Saturday morning in Rapid City and enjoy breakfast at the Country Market.  When I order pancakes, the server asks if I'd like one, two or three pancakes. This confuses me – who orders one pancake? After a pause, I order three and settle in with my coffee. A few minutes later the pancakes arrive and my question is answered:  Rocco should have ordered one pancake – the tires on C.J.'s truck are smaller than what is sitting on the plate in front of me. Although I tried my best, three pancakes are too much for this middle-aged desk jockey. My revised plan for Saturday on the road now includes a nap.

C.J.'s plan – the one that actually matters – includes no naps, but instead a shortcut that takes us north out of Rapid City, cuts a corner of Wyoming and then into Montana.  We'll have a couple state border crossings fairly close together this morning, so if I'm going to perform my "One Thing to Do," I'll have to stay awake. I nail the Wyoming border like a seasoned veteran, but as we continue northwest, I wonder if I missed us crossing into Montana somehow. We talk about it and decide the mile markers should be counting down since we're heading west, so if we're at 16 now, we should only worry if the next one is 17. Sure enough, the next one is 17. Good grief, I had only "One Thing to Do!" Fortunately, the state of Wyoming (or somebody) decided that U.S. 212 heads more north than west and so the mile marker numbers rise as we close in on the border, not fall. A few miles later, we hit Montana, the odometer reading is captured and I am in no danger of being forcibly removed from the truck, as far as I know.

The rest of the day is uneventful. But as I think back to yesterday's encounter with road rage, I'm reminded of a paradox of driving: It's a difficult job because society has made it an easy activity and we don't respect the skills it requires of the professional drivers. C.J. traveled hundreds of monotonous miles yesterday, each potentially lulling him into complacency, yet he can't afford complacency. Trouble can happen in an instant and that instant can change lives. There are 39,600 seconds in an 11-hour driving day and, yesterday, 39,599 of those seconds were mundane. Yet, if C.J. hadn't been ready for the one second of lunacy, the day could have turned out differently. The responsibility BCOs carry is heavy – we should be proud they carry it so well.
Sunday, July 17
Morning in Missoula is in the low 50s – gorgeous weather for a couple guys from Florida. We continue our trek west, rolling over Lookout Pass and into Idaho, then into Washington. After two flawless performances recording the odometer reading, I have Nothing Left to Do.

I've never traveled eastern Washington. I find the landscape eerie – flat at the horizon, but riddled with what looks like volcanic outcroppings nearby. After a delightfully empty two days, traffic gets heavier as we continue through the arid east toward the Columbia River and the Cascade mountain range beyond.

C.J.'s plan is to take his 30-minute break at the TA in North Bend to have lunch. Once again, we're watching the ELD and comparing to the mile markers. The increasingly heavy traffic is taking its toll. We're frequently slowed to a near standstill, and I begin to understand the truck parking issue a little better. Though different than in the east, where there are more locations and more trucks that need them, the problem out here – in my eyes anyway – is the distance between available locations to park a truck. We could have taken the break earlier in the day, but at that time there was no indication we wouldn't have plenty of time to get to North Bend. Now, bogged down and held up by an unexpected logjam, it looks like we might have to stop for 30 minutes at a wayside and then stop again for lunch. I can imagine how this feels to someone trying to get home or to make a delivery on time. Thankfully, traffic loosens up and we're able
to stop at the TA as planned. I stay away from the pancakes.

After lunch, Seattle and its traffic loom in the distance. It's only mid-afternoon though and we're going to be fine. C.J. drops me at the airport (just like I planned) and continues to Everett to make his delivery, safely and professionally, like he and his colleagues do every day of the year.

This experience was wonderful. Certainly the beautiful route we took and the many things C.J. and I have in common helped. But, there is no mistaking how much I enjoyed the simple act of rolling across America. Whether it was the cornfields of southern Minnesota, the badlands of South Dakota or Montana's pine-covered mountains, I relished every mile. But here's the deal: I don't do this every day and I now have new appreciation for what it takes.

The next time I'm groaning about heading to the airport for the third time in two weeks, I'll think about C.J. and the rest of Landstar's BCOs and realize I have nothing to complain about. Friday evenings, weekends, heavy traffic, no place to park, BCOs deal with it all and do it day-after-day and week-after-week without enough recognition or appreciation. I did appreciate it before, but I appreciate it even more now. This is a very difficult way to earn a living and my hat is off to the pros who decided years ago to make this a career, and choose it again every day they get behind the wheel.