LandstarOne® is a new mobile app from Landstar, created to give independent Landstar owner-operators one stop for all of their business needs.
"LandstarOne® makes it even easier for BCOs to save money on fuel and gives them direct access to the Landstar apps they rely on to run their businesses more efficiently and effectively," says Rocco Davanzo, Landstar Transportation Logistics executive vice president of capacity development.
Designed as a mobile portal to house all of Landstar's exclusive mobile applications, LandstarOne® gives business capacity owners (BCOs) instant access to:
LCAPP® Fuel Savings
Landstar's Available Loads & Landstar Maximizer® apps
Important Landstar news and information
"Being able to subtract the LCAPP fuel discount and state IFTA is huge, it saves me work," said Landstar BCO Jason Mollett. "The app gives me an easy way to compare fuel prices wherever I am."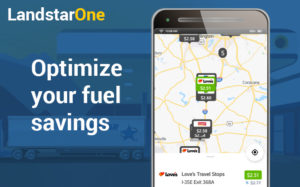 LandstarOne® is available for download for iPhones in the App Store or for Android phones on Google Play. Once downloaded, BCOs should log on to LandstarOne using their LandstarOnline.com username and password. If you have questions about the LandstarOne app please email LandstarOne@Landstar.com.

LCAPP® - Landstar Contractors' Advantage Purchasing Program is a unique, cost savings program available exclusively to Landstar business capacity owners. LCAPP frequently adds products and services to help Landstar BCOs lower their operating costs.  Visit www.LCAPP.com to learn more about the additional savings available for BCOs.