Tracking the Batmobile
Even a superhero like Batman needs a little help now and then. So, when a replica of the Batmobile needed a fresh coat of paint, Dandera Entertainment, in conjunction with Rich Boys Toys Inc., turned on the bat signal.  A Landstar agency based in Stillwater, Minnesota answered the call to move the vehicle to a paint shop in Kissimmee, Florida.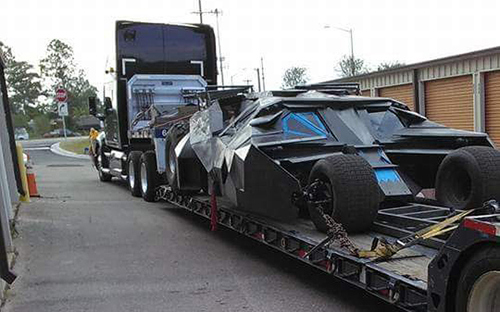 "This load had to be monitored closely even though it was only going across the state," says Dan Mitchell who manages the DCR agency under Landstar Agent Bobby Schlieske. "The customer was really impressed with the freight tracking we offered through Landstar Connect® and knew exactly where the Batmobile was at all times."
The replica of the Rambler Batmobile from the Christopher Nolan Batman film trilogy was secured behind Landstar BCO John Turner's Kenworth T-700. Turner drove the load from Tallahassee to Kissimmee, Florida. The heavy-haul solo driver says the load turned a lot of heads on the highway.
"I was actually pulled over by a Florida Highway Patrol Officer on the way to deliver, but not because there was a problem," laughed Turner who leased on to Landstar in 2013. "He said he just really wanted to write 'Batmobile' on an inspection report."
For more information on Landstar's services, click here to request a quote.