Expecting the unexpected – whether it comes in the form of snow, ice, tornadoes, hurricanes, wildfires, thick fog, or just a sudden gust of wind – being prepared for erratic weather has always been a part of Landstar's safety message to owner-operators.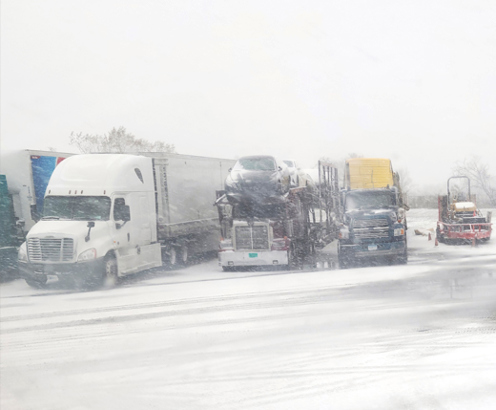 Snow, freezing rain, ice, bitterly cold temperatures causing pipes to burst, power blackouts and accidents that left motorists stranded on interstates for days – all part of  record-breaking winter weather that wreaked havoc from Texas to Oklahoma before it swiftly moved east to the Carolinas and Virginia.
"I was at a truck stop in San Antonio, Texas, on February 13, 2021. We couldn't move for seven days during that storm. The state had never experienced weather quite like this, so the truck stop was out of food, out of water and out of working bathrooms," recalls Tony Pennello, a business capacity owner (BCO) who leased to Landstar in 2015. He says the North American storm of February 2021 was an experience he will never forget. "It was remarkable," Pennello says, "A perfect storm of events that kept getting worse."
Landstar's safety department stresses safety first when making decisions about getting on or off the road. "Never drive if current conditions are unsafe or if upcoming changes in weather patterns will make driving conditions dangerous," says Landstar Vice President of Safety and Compliance Mike Cobb. "During extreme weather conditions that disrupt North America's supply chain, like what was experienced throughout the Midwest, we urge independent Landstar owner-operators and all motorists to put safety first."
According to news reports, 107 truck stops in Louisiana, Mississippi, New Mexico, Oklahoma, Tennessee, Texas, and Virginia were impacted by extreme weather conditions in mid-February. The storm caused some truck stops to shut down completely while freezing temperatures downed diesel pumps, and water outages forced restaurants and amenities to close.
"Where I was, the restaurant closed, then the truck stop lost power and water. I always travel with MREs (meals ready to eat) so I had enough food to last about six days and plenty of warm clothing and blankets," says Pennello. "I ride with my dog, Gunner, so I always make sure to have enough water, and thankfully so. Unless you had water in your truck, you were sunk." The owner-operator says the storm delivered a critical reminder about preparedness.
"Don't get caught unprepared. Being aware of weather watches and warnings in the area and what might be occurring down the road should be part of your pre-trip planning," says Cobb. "But just in case, drivers should always be prepared by traveling with emergency supplies."
The National Safety Council (NSC) recommends all drivers have an emergency supply kit located in their vehicle, including:
Cold weather gear, such as a snow brush, shovel, warm clothing, blankets, and cat litter for traction
Drinking water
Duct tape
Flashlights and extra batteries
Fire extinguisher
First aid supplies
Multipurpose and utility tools
Non-perishable foods
Reflective safety gear
Wireless phone chargers
"If faced with an emergency in transit, only when it is safe to do so, owner-operators leased to Landstar should communicate with the Landstar safety department," says Cobb. "Additionally, these BCOs should communicate conditions in the field to the freight agent if they are under a load and forecasts indicate that it is not safe to drive."
Guy Lovan, the manager at the Doug Cooper Agency, is thankful for BCOs like Pennello who were ready for anything when winter whipped through Texas. "When the weather hit Texas, our agency was working on a large movement of training equipment to Fort Hood. We moved 84 loads and the Landstar BCOs on these loads did a spectacular job of keeping us informed of weather conditions so we could be in constant communication with the customer," says Lovan. "If there was an emergency and we needed to track a location, we could do that through the ELD in the truck, but thankfully that wasn't necessary. Because everyone communicated ahead of time, all but two trucks were unloaded before the worst hit. The two remaining trucks, driven by BCOs Santiago Lebron and Tony Pennello,
were still under their loads but found a safe haven at a truck stop." 
In addition to the safety support that electronic logging devices (ELDs) offer owner-operators, Landstar mobile apps also give independent agencies real-time location and load information. When emergencies happen, the technology allows agency teams to remain connected to the truck operators in the field and communicate any weather-related load delays.
"In this situation, we directly dialed our point of contact with the customer. There was a lull in delivery of the final two loads, but the customer was aware and was shut down by the weather too," says Lovan. "No one here had any idea the storm would be as bad as it was. While the two BCOs were stuck, there wasn't much we could do to help, but check in with them and communicate daily."
Pennello says, "We received great communication from the agency and the customer. Including myself and Santiago, I estimate there were probably 150 drivers at the truck stop that week who couldn't move." Pennello adds, "We were prepared, but there were many drivers stranded with us who were not. Thankfully the community of truck drivers came together sharing supplies and food to help each other through the difficulties. I just hope my experience is a lesson to other drivers, to be prepared no matter what – even if you think there is no way a freak storm could hit the state you are in."
Expect the unexpected. Remember to always be prepared. Once winter ends, spring consistently brings an increase of rain, thunderstorms and wind, followed by the Atlantic Hurricane season, which starts June 1, and is predicted by forecasters to be another active season.
Expect the Unexpected
To become an independent owner-operator leased to Landstar requires experience driving in various inclement weather conditions. Difficult driving experiences prepare BCOs for the kinds of weather events they are bound to be confronted by during their careers.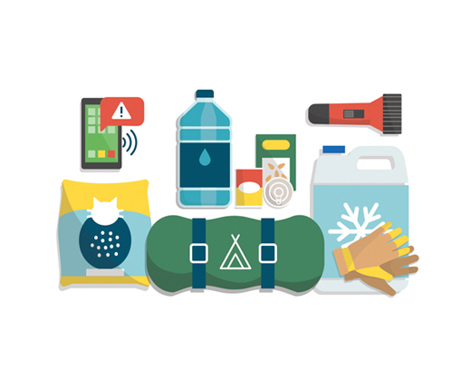 By their own accounts, experience with extreme weather conditions and knowing how to prepare for and handle unpredictable situations on the road is part of what makes Landstar's fleet of independent owner-operators among the safest transportation specialists in North America. 
David Brock, Landstar BCO, Leased to Landstar in 2015
"In the winter, I always carry at least a week's worth of food and three gallons of water because I have been stuck on the freeway in the past and helped others by offering food, water and warmth. The food might only be sandwiches or soup, but it is always better than nothing."
Rebecca Heck, Landstar BCO, Leased to Landstar in 2019
"Something that a trooper in North Dakota taught me in extremely negative temperatures with high winds and blowing icy snow is, while wearing rubber gloves, take a large rag and soak it in antifreeze. Then wipe your windshield blades and blade arms down with it and let it dry before you expect inclement conditions. This practice makes for better visibility in snow and ice. I also keep instant heat patches in my truck to keep the blood warm and avoid hypothermia."
Barry McLarty, Landstar BCO, Leased to Landstar in 2004
"Being out of western Canada, trucks are equipped with engine heaters so freezing isn't an issue for us. But I always carry water, protein, peanut butter, jam and have a -20 degree rated sleeping bag. The longest I have ever been stopped due to weather was just 48 hours and I had plenty of food and equipment to be okay." 
Jason Mollett, Landstar BCO, Leased to Landstar in 2012
"Along with a long list of supplies and tools in my truck, the best investment I ever made for safer winter driving was a set of heated windshield wiper blades."
Brian Sheesley, Landstar BCO, Leased to Landstar in 2008
"I carry a military entrenching tool to dig snow from around my tires in the winter. Plenty of food and water, ice melt, rubbing alcohol to prevent windshield wipers from icing up, and I keep anti-gel products that restore the flow of diesel fuel to an engine with gelled fuel or frozen filters aboard."
Rich Rukstalis, Landstar BCO, Leased to Landstar in 2011
"Download weather apps to your phone and be aware of what's coming. I keep an eye on storms across the country and look at the weather for the area I am in and where I am going to know what is expected. And, I always expect the unexpected because the weather can change fast."
Trey Smith, Landstar BCO, Leased to Landstar in 2017
"I invested in a sleeping bag that is rated for very low temperatures. They open up to make a great comforter and if you are in a situation where the truck breaks down they can be zipped up to form a nice heated cocoon that might save your life. I broke down in 18-degree weather at a customer late at night, and was warm and safe."