What Every Heavy Haul Shipper Needs to Know
Previously published on SupplyChainDive.com. 
Shipping over-dimensional, heavy weight freight has a tendency to be more complex than a regular dry van truck shipment. For this reason, it's critical that you have the knowledge and capacity to coordinate the logistics of such freight, or hire a trusted carrier to handle the transportation on your behalf. Whichever direction your company decides to go, make sure to keep the following in mind.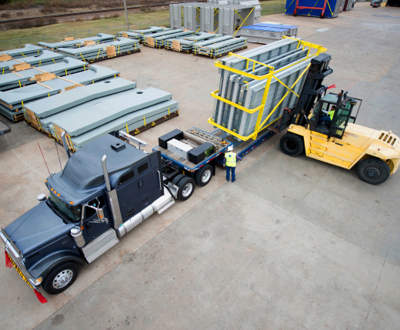 The Importance of Pre-Planning
Before your load makes it on the road, there should be a detailed plan that is followed from origin to destination. Depending on the freight, putting together a transportation plan can take a few hours to several months. The more complex the load is, the more pre-planning needed. The details of the plan should outline:
What permits should be obtained for each municipality your load is traveling through
What drive time restrictions need to be considered
How many escorts are needed for each municipality
If a route survey is necessary
If police or utility companies need to be involved
Navigating Regulations
Carriers often help heavy haul driver(s) source escorts, obtain permits, coordinate route surveys, and navigate the intricacies of state-by-state requirements.
Not having the correct permits can significantly delay the transportation of your freight. Every county and state regulates different times, or even days, when over-dimensional freight is allowed to be transported on their roadways, if it is allowed at all. For example, one state may require a rear escort for a given load while another state may not for the same load.
An experienced carrier with a long track record of transporting over-dimensional cargo will be able to confirm that certain details in the logistics plan are covered, such as varying height limitations on side-by-side lanes or if utility lines have to be raised. Additionally, an experienced carrier should know how to handle state-by-state regulations that could be revised due to a special circumstance such as a natural disaster or a state of emergency declaration.
The Cost of Delays
While some delays are inevitable, others can be attributable to use of an unqualified carrier to haul your load. One delayed shipment can cost a shipper thousands of dollars per day, depending on the length of the delay. Some of the common expenses shippers accrue as a result of a delay are:
Rental fees for machines/cranes for offloading
Additional permitting
Last minute charges due to a project schedule shift
Employee and contractor compensation/overtime
Proper Load Securement Procedures
Proper loading and securement is key to avoid damage to your load during transport. The correct loading and securement procedures will vary based on the freight and the trailer type. These critical details that develop during the pre-planning phase of the project are vital information to help the truck operator move the load safely. 
A company that overlooks important securement details risks racking up serious costs associated with damages and delays. If outsourcing this responsibility to a carrier, you need to be able to trust that your transportation provider knows the business, understands your product, and has a safety culture that extends to every single person overseeing your shipment.
No Substitution for Experience
Glossing over the experience of a transportation provider very quickly can turn into a costly and damaging mistake for you. While every carrier will have a different qualification process for its heavy haul drivers, whether they are independent owner-operators or company drivers, some of the requirements may include:
Experience with specialized trailer types
Experience hauling over-dimensional, over-weight freight with another company
Carrier specific on-the-job training
Long combination vehicle (LCV) certification
Positive reference checks
Would you want to explain to your supervisor or customer that your project is over budget and short on time because you didn't have the right transportation provider in place? If your company does not have the resources or expertise to manage over-weight and/or over-dimensional moves, and you don't bring in a heavy haul specialist who does, you could be setting yourself up for failure. Don't take any chances with your freight. Lean on a heavy haul transportation provider to get your shipment from point A to point B safely, damage-free and on-time.