What Is In The Landstar Van? A Replica of A Glacier
Moving At A Glacial Pace
While it is impossible for someone to physically move a real glacier, when it comes to moving a replica of these natural wonders, it just takes a dry van and a little Landstar know-how.

Landstar BCO Lloyd Tubbs booked the load – Taylor Studios' glacier sculpture – through Landstar agency Reload Freight Systems Inc. The move, listed as a logistics van haul, required the owner-operator to have special padding, blankets and logistics straps to keep each piece of the 5,000-pound fiberglass and foam glacier safe during the 3,730-mile haul from Illinois to Alaska.
"Knowing how fragile pieces of the sculpture were, I worked closely with the customer at pickup and delivery," says Tubbs, who was concerned about the pieces of the sculpture getting damaged on the trip, especially while traveling along the rough Alaskan Highway.
"I made the decision to carpet the floor of the trailer to ease any impact during the haul," says Tubbs. "Then I blanketed all of the pieces and strapped them down in the blankets to keep the cargo safe."

Tubbs hauled the five large pieces of the model glacier as well as the vinyl graphics and airbrush supplies needed to re-assemble the sculpture. Customized solutions for a damage-free delivery is something Tubbs says he's proud to offer on every haul, but especially on something as unique as moving a glacier.
"We did a lot of work to secure the freight. The effort was worth it. It's what it takes to protect the customer's product," says Tubbs.
When Tubbs arrived at the Mt. McKinley Princess Wilderness Lodge in Trapper Creek, Alaska, he was met by a small team from Taylor Studios to help unload and set up the model in the lodge.

"We unloaded the sculpture by hand to protect the freight," says Tubbs. "Putting the pieces on a forklift or dolly could potentially damage them. So, working as a team with the customer, we carried each piece of that glacier into the lodge for delivery."

At the end of the haul, the customer told Tubbs' that his service went far deeper than what they expected when booking the load.

"They told me they were thankful and grateful for my efforts to keep the glacier damage-free." says Tubbs. "Just another day in the office for me, but a pleasure to know how happy they were with my service."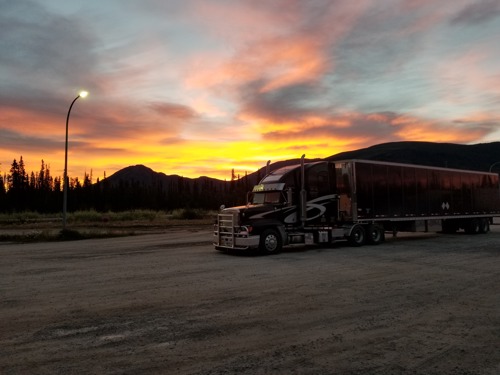 For more information on Landstar's services, click here to request a quote.