2016 Landstar Rookie Of The Year
After 22 years in the transportation industry, Jennifer Phillips-Page says the most important thing she has learned is to protect her customers' interests. Her business motto of putting customers first and "making their problems go away," are among the reasons she was named Landstar's Rookie of the Year.

"The root of my success is maintaining relationships with my customers all over the United States," says Phillips-Page. "Talking to them, working closely with them, and helping them to overcome challenges."

When she made the decision to take a new path by joining the Landstar family in 2015, she says she knew exactly what to do to achieve success for her agency and her customers.
"I'm a rookie with Landstar, but not in the transportation industry," says Phillips-Page. "I knew that in order for my agency to be successful, I would have to maintain the relationships I established in my previous career, create new ones and grow my business with the support of Landstar."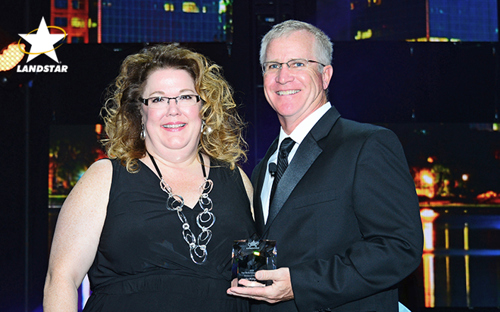 For Phillips-Page, Landstar offered more than back-office support, and access to technology and capacity to help her exceed her customers' expectations. The savvy businesswoman understood that she could develop relationships with fellow Landstar agents to help handle the rail side of her customers' shipments, for example, or to provide additional freight services like air and ocean.

Since opening her independent agency, Loadstar Transportation, in Plainville, Massachusetts, Phillips-Page says she is more focused than ever on building customer relationships via Landstar's safety-first brand.

"We do a lot of flatbed freight and jobsite deliveries. I talk to contractors on site and work closely with customers to ensure their freight is delivered on-time, claim-free and damage-free," says Phillips-Page.

Phillips-Page signed on as a Landstar agent in October 2015. In 2016, her agency moved 2,456 truckloads, with no accidents and no cargo claims. She generated more than $5 million in Landstar revenue during her first 15 months as an independent agent, making her the 2016 Rookie of the Year. Phillips-Page was presented with the annual award during the 2017 Landstar Convention held in Orlando, Florida.
"The fact that Landstar is a safety-first company pleases my customers, and it assures them that I am working as hard as I can for them," says Phillips-Page, who adds that she will continue to grow her agency with her customer-focused business plan, delivering solutions to "make all of their problems go away."
To qualify for Landstar's Rookie of the Year award, agents must have been a part of Landstar for less than two years. Nominees for the 2016 Rookie of the Year Award must have joined Landstar between July 1, 2015 and June 30, 2016. During the agent's first full year in the Landstar system, the nominee must have demonstrated both outstanding revenue performance, and excellence in customer service.