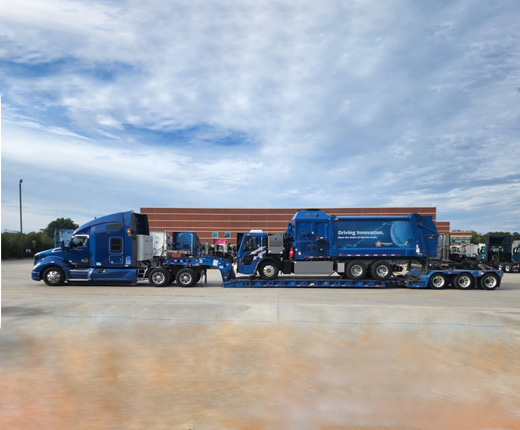 What has more than 18 wheels and flies, but isn't an aircraft?
Bad jokes aside, a garbage truck loaded on a double-drop RGN is a sight to see – especially when the two trucks happen to be color-coordinated like the load managed by Danny Anderson of independent Landstar agency Taylor Shipping Solutions.
Before the all-electric Mack® garbage truck headed from Greensboro, North Carolina to Commerce City, Colorado, Anderson had some serious planning to do.
He admits that he was a little nervous at first to move such a large load. "Getting a double-drop RGN moving a Mack garbage truck can be intimidating with a weight of 43,000 pounds, and its large dimensions." The oversized load was 32'5''L x 9'11''W x 12'8''H. His team didn't waste any time in conducting a road survey to find the safest route possible and obtaining the necessary permits. Then, Anderson looked far and wide for a cab to match the exact color of the electric blue trash truck – OK, that's a joke. Landstar BCO Jamarr Hecker, had the right experience to navigate the nearly 1,600-mile journey with the heavy, over-dimensional load, and coincidentally, had the right color truck to match his load.
"Jamarr was the hero in this haul, and I'm grateful to be working with such talent," Anderson said.
And, the customer appreciated the visibility they had throughout the journey. "We kept the customer in the loop with frequent updates," said Anderson. "We also shared a Landstar Clarity® link so they could track the load from pickup to delivery."
---
Through the Landstar network, we can find the right people with the right skills to manage every step of your project.