Landstar System, Inc. honored seven female owner-operators among Landstar's best and safest during the 7th Annual Landstar BCO All-Star Celebration held earlier this month.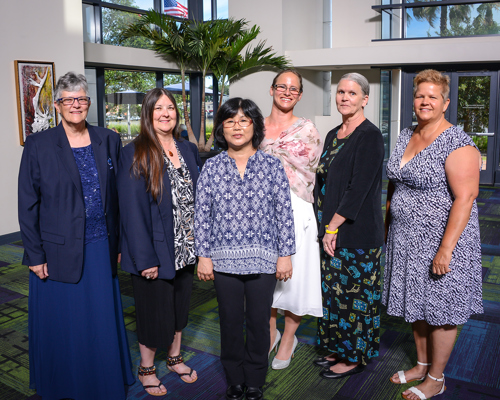 These women were among the select group of inductees honored during a three-day event held in Savannah, Georgia, recognizing their outstanding safety records and professionalism behind the wheel. Each of the inductees honored has driven more than one million consecutive miles without a preventable accident.
Pamela Boyer - Camp Cole, Missouri
Cecelia Logan - Hartford, Alabama
Lori Nelson - Marana, Arizona
Sara Pingel - Palm Bay, Florida
Kristen Pittman - Buffalo, New York
Hung "Nancy" Reed - Sherman, Texas
Margaret Thrasher - Catawissa, Pennsylvania
Two of the women also were awarded the Landstar Roadstar® distinction. This is the highest level of recognition a business capacity owner (BCO), Landstar's term for independent owner-operator, can receive at Landstar. During the event, Landstar BCO Cecelia Logan was inducted as both a Million Mile Safe Driver and a Roadstar honoree. Landstar BCO Lori Nelson achieved one million safe miles with Landstar in 2015 and received the Roadstar distinction during the July 2018 awards ceremony.
"These professional owner-operators and their outstanding productivity and safety record raises the bar for the entire trucking industry," said Landstar President and CEO Jim Gattoni. "They are among the safest owner-operators in the transportation industry."
This year's event honored 166 Landstar BCOs. Landstar was proud to honor 14 BCOs as Landstar Roadstar recipients, 138 as new Million Mile Safe Drivers, 12 BCOs as Two Million Mile Safe Drivers, one BCO as a Three Million Mile Safe Driver and one BCO as a Four Million Mile Safe Driver.
Landstar's Class of 2017 inductees brings the total number of active Landstar BCOs who have earned the title of Million Mile Safe Driver to 989 and the total number of active Roadstar honorees to 174.