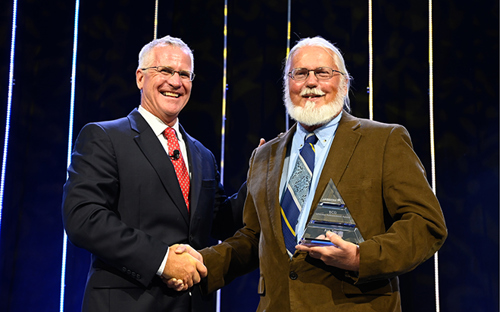 Landstar presented its BCO Lifetime Achievement Award to Landstar Three Million Mile Safe Driver and Landstar Roadstar® Art Trezise during a special ceremony held on July 2, 2019.
The award was kept a surprise until Trezise's name was revealed during the awards ceremony portion of the 8th Annual BCO All-Star Celebration. Each year, the event honors the company's best and safest independent owner-operators.
During the award presentation, Landstar President and CEO Jim Gattoni called Art Trezise's safety record "flawless." Since leasing to Landstar in 1979, Trezise has driven more than 3.5 million miles at Landstar without incident.
"The BCO Lifetime Achievement Award is the perfect way to honor this 40-year safe driver," said Gattoni. "The award is a testament to Art's professionalism and excellence as an independent owner-operator at Landstar."
Trezise, who lives in Springhill, Florida, was named a One Million Mile Safe Driver in 1993. In 2001, he reached two million safe miles with Landstar and also was named a Landstar Roadstar® recipient, one of Landstar's highest awards for owner operators that recognizes their high levels of safety, productivity and excellence. In 2012, Trezise was honored as a Three Million Mile Safe Driver.
The BCO Lifetime Achievement Award was first introduced during the 2012 BCO All-Star Celebration. To be considered for the honor, nominees must be an active or retired Landstar BCO who has been leased on to Landstar for at least 20 consecutive years. Nominees must be at least a Two Million Mile Safe Driver and a Landstar Roadstar® recipient.
Independent owner-operators who receive the prestigious Lifetime Achievement Award must also have consistently demonstrated professionalism by developing a positive reputation with regulatory and enforcement personnel, customers, agents and Landstar employees, as well as through industry recognition.