These BCOs share how they stay on the move... as they keep on the move.
More than 50% of professional truck drivers in the U.S. are obese or morbidly obese. That 2018 statistic from the National Institute for Occupational Safety and Health (NIOSH) is far above the national average for Americans. According to the Centers for Disease Control and Prevention (CDC), more than 39% of adults in the United States are obese.
The health risks associated with obesity include, but are not limited to: cancer, sleep apnea, high blood pressure, diabetes, heart disease, stroke, joint and back pain, and depression. These are life-threatening health conditions that, according to the Federal Motor Carrier Safety Administration, can prevent drivers from receiving or renewing their commercial driver's license (CDL), stripping away their livelihood.
The Road to Better Health
Improving your health takes time, energy and access to the right food. All common challenges when it comes to leading a healthy lifestyle as a professional truck driver. But a few Landstar business capacity owners (BCOs) are up for the challenge and on the road to beat the health odds against truckers.
Walking
Landstar BCO Jason Mollett rang in 2019 by posting on Facebook his fitness goals and a promise to all his friends and family.
"I set a goal to walk 1,000 miles in 2019. So far (as of August), I've reached 781," says Mollett. "I've always been aware of the challenges to staying healthy as a professional truck driver. Through the years I've had gym memberships and just overall tried to keep moving. But this year, I wanted to do something different and hold myself accountable to keep going."
Using a watch and fitness app to track his steps, through the winter months and changes in season,  Mollett says he's stayed on course.
"Actually the summer heat is harder for me than the winter," explains Mollett. "That heat can be brutal. At least in the winter, as long as you're dressed appropriately, you can keep going. Walking in the rain isn't fun at all, but I've done it."
Going the extra mile to nourish his overall health has become more of a lifestyle for Mollett. Now, instead of eating at truck stops, he walks to restaurants for his meals.
"Restaurants have better and healthier options than most truck stops," says Mollett. "I am getting my steps in, and I get to see things I usually wouldn't see if I didn't leave the truck stop."
Mollett hopes his story and his social posts inspire other BCOs to lead healthier and happier lifestyles.
"I never want to be the stereotypical overweight truck driver. Overall, I know I am a lot healthier when I am walking regularly and I feel better," says Mollett. "My mind is clear and focused, I'm less bloated and I sleep better. It's important to take care of your body in our profession."
Running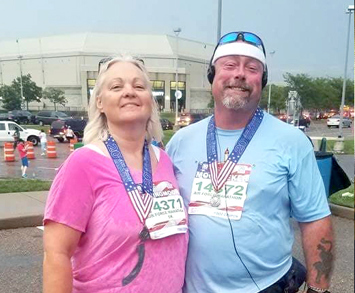 Landstar BCOs James and Denise Morris are running through 2019 to improve their health. The couple, who met on the road several years ago, have each challenged themselves to run 1,019 kilometers (633.1772 miles) by the end of the year.
"We caught the running bug a few years back. When I started running, it was for health reasons. I was a smoker, diabetic and overweight. After a doctor's visit, I knew I needed to make some changes - my life depended on it," says James Morris.
He quit smoking, lost weight and soon after he started exercising, doctors reduced his medications. It wasn't long before he and Denise were running half marathons together.
"This year we decided to challenge ourselves with the You vs the Year challenge from the Map My Run mobile app. The app helps us track the miles and it holds us accountable. We can check up on each other and the other people in our fitness group through the app," says James Morris.
"I can tell him to get moving on the app," Denise Morris laughs. The BCO says her main motivation to get out of the truck and move is the way she feels when making exercise a regular part of her busy BCO lifestyle.
"Overall, we both feel better. We are more aware of the foods we eat to make sure we are getting food that fuels us," says Denise. "There was a time recently, we didn't exercise one day and James couldn't sleep. He got up, did a 5K (3.1 miles) and then fell asleep immediately. We both sleep better when we are exercising and better rest means a safer driver."
Jumping
Landstar BCO Ken Denzer and his wife, Mary, have jumped into better health with both feet.
"We travel with a mini trampoline in the truck," says Ken Denzer. "It fits right behind the seat. It's easy to set up right outside the truck and bounce for 10-15 minutes at a time. If you can't leave your truck, the trampoline is a great way to get some exercise."
In addition to jumping, the Denzers walk daily and take advantage of the TA Petro Stopping Centers StayFIT program. StayFIT locations, which combine healthy food options and workout facilities, are available to TA Petro UltraONE members.
"We like utilizing those facilities to do something different. They have weights, stationary bikes, things we don't always have access to," says Ken Denzer.
The Denzers also say the key to a healthier life on the road is meal planning. When at home, Mary cooks and packs enough healthy, homemade food to last two weeks. On the road, the Denzers often plan their stops around Landstar orientation centers.
"We often take advantage of the Landstar facilities available to us, where we can cook and meal plan for the next route," says Denzer. "The only problems we encounter there are the other BCOs who smell the delicious food and want to try Mary's cooking!"
The 7 Benefits of Cardiovascular Activity
According to the American Heart Association, walking at a brisk to moderate pace that raises your heart rate for an extended period is considered cardiovascular activity. Cardio exercises improve your fitness, stamina and burn calories. Just about any activity can count as long as your heart rate increases.
 Help manage weight
 Reduce the risk of Type 2 diabetes, high blood pressure
 Reduce the risk of certain cancers such as colon, breast and lung cancer
 Improve flexibility and strength of joints, muscles and bones
 Increase "good" cholesterol
 Boost the immune system
 Improve mood, reduce anxiety, aid sleep and improve self-image
*Information provided is based on research from experts with the Mayo Clinic, the American Heart Association and the Centers for Disease Control and Prevention (CDC). Always check with your doctor before beginning a drastic change in diet and exercise routines.