Safety masks, hospital beds, food and even ethanol to be turned into hand sanitizer are just a few of the essential items that independent Landstar agents and business capacity owners (BCOs) continue to deliver during the coronavirus (COVID-19) pandemic.
Ethanol Delivery
Landstar BCO team drivers Michael and Janet Cuatt delivered a load of ethanol to Manifest Distilling in Jacksonville, Florida, for Spencer Boys Transportation Inc. in April. According to Adam Spencer, co-owner of the independent Landstar Agency, the ethanol was part of a donation from spirits manufacturer Bacardi. After the grain alcohol was delivered to the distillery, it was manufactured into hand sanitizer, bottled and distributed to first responders in North Florida.
Hospital Beds & Medical Supplies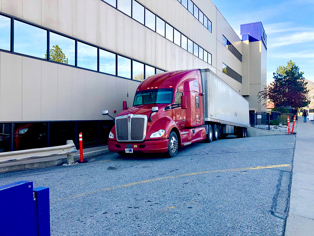 At Kerfrog Inc., independent Landstar Agents Kerr Craige and Jackie Magee have daily calls to support their long-time customer, a medical equipment manufacturer, during the coronavirus pandemic.
According to Magee, the agency switched gears when the usual large medical machinery loads turned into the transport of stretchers, mattresses and medical equipment to hospitals all over the United States.  
"Instead of utilizing heavy haul trailers, our customer now needs business capacity owners with expedite, lift-gate and logistics vans. We are working with a pool of 300 to cover these high-priority loads," says Jackie Magee. "Since the effort to help our customer with coronavirus relief began, we've sent loads of beds, mattresses, stretchers and the various medical supplies to New Orleans, Illinois, Washington and New Jersey." (Photo courtesy: Landstar BCO David Hawkins)
A Tarmac Pickup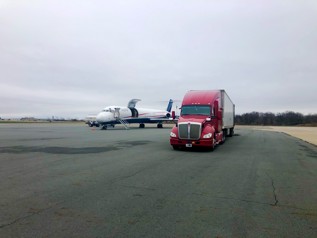 Landstar BCO David Hawkins found himself in an unusual pickup location in April – on the tarmac at Stewart International Airport in New York. The BCO says he found out once he was on the tarmac that he was picking up thousands of N95 safety masks for transport to a hospital in New Windsor.
In response to the pandemic, the Stewart International Airport Authority in conjunction with the Federal Aviation Administration (FAA) provided authorization for Hawkins to drive on the tarmac.
"For security reasons I was directed to the airport's tarmac to load my truck. This was a first for me. I have never parked my truck that close to a plane for loading," says Hawkins. "When I arrived at the hospital with the high priority load, I was unloaded within the hour. After I saw the relief on the faces of the workers who were going to receive these masks, I realized while only I may have traveled 18 miles, it was the most important load I've ever hauled."
Hawkins booked the load through Vanessa Zwolensky, logistics manager at Ideal Transportation, an independent Landstar agency based in Michigan.   
Grocery Store Deliveries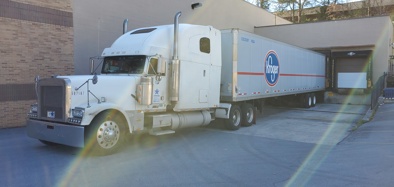 More than 100 Landstar BCO trucks have worked directly with Jeff Baker's independent agency, JB Transportation, to deliver loads of dry and refrigerated products for Kroger Supermarket chains across the United States. 
"We've delivered thousands of shipments for this customer in the last four weeks," says Jeff Baker. "During this time, we are working directly with Kroger to provide capacity to cover every emergency load. It's nice to know that we play a part in assuring their products are in stores for their customers."
Landstar BCO team drivers Eugene Antinori and Andrea Perry are among the hundreds of Landstar BCOS who hauled Kroger loads for Baker's agency. The AA&E team drivers say they are proud to help keep grocery stores in America stocked during the pandemic.