Harnessing the Wind One Superload at a Time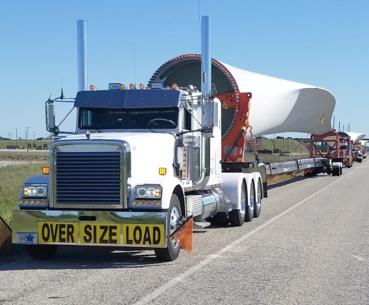 2,361 - that's how many wind power related superloads Mike Meyer and his agency team at TLG Transport Inc. had planned as of September 2019.
"This year has been a superload milestone for our agency. We are looking at a record year for this business," says Meyer, who estimates by year-end his agency team will plan the logistics for more than 3,600 superloads – most of which are pieces and parts of wind turbines.
"We've been doing moves for the wind power industry since 2002," says Meyer. "Seven out of ten loads for a new wind turbine are a superload. The blade on a truck currently spans about 240 feet long and the tower's base on a truck is 190 feet long and can weigh up to 243,000 pounds."
According to Meyer, a combination of technology, experienced owner-operators and agency staff, and coordination with the customer have made moving each wind-power superload a success.
"Our staff and BCOs use technology and their experience to meticulously calculate each load's travel route. The business capacity owners (BCOs) on the loads are the best of the best, specifically trained to move these types of loads. All of that, coupled with the back office support we receive from Landstar contributes to our success. It truly is a team effort," says Meyer.
For more information about Landstar's services, request a quote here.