Landstar Transportation Logistics Vice President of Safety and Compliance Mike Cobb spoke with Inbound Logistics for the magazine's October issue about the steps a shipper can take to qualify a hazmat carrier and work cohesively with the carrier to keep a hazardous shipment in compliance.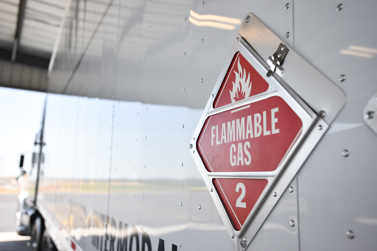 Hazmat transportation's multifaceted nature makes logistics particularly complicated, especially when companies don't realize that they're transporting such goods. Even though a manufacturer may be an expert at producing goods, it may not be as well-versed in the intricacies of transporting those materials, including unknowingly offering carriers non-compliant hazmat shipments.

Compliance is a team effort, and shippers, carriers and drivers must work together and play interdependent key roles in ensuring hazmat shipments are transported safely. By shippers giving business only to carriers well-versed in the transportation of hazmat materials, the company can ensure the shipment will remain compliant.
Defining & Identifying Hazardous Materials
Any company working with hazardous materials of any type must understand the nature of hazardous materials and the steps that should be taken to ship those goods in the safest possible manner.

By definition, a hazardous material is a substance or material that the Secretary of Transportation has determined is capable of posing an unreasonable risk to health, safety, and property when transported in commerce and has been designated as hazardous under the federal hazardous materials transportation law. The term includes substances, hazardous waste, marine pollutants, elevated temperature materials, and other materials designated as hazardous. There is a distinction between the obvious hazardous materials, such as liquid gasoline, ammunition and explosives, and less obvious hazmat such as Class 9 commodities like lithium batteries and dry ice that don't require the transport vehicle to be placarded for domestic transport.
Hazmat Transportation Must Haves
All hazard classes pose risk of fines, penalties and violations if not transported properly.

Shippers that transport hazardous materials must:
Maintain hazmat authority (either with an Environmental Health, Safety & Security expert or an outside consultant)
Secure qualified carriers with hazmat-certified drivers
Ensure that only qualified and trained employees have access to any part of the hazmat operation
Stay abreast of changing regulations
Maintain constant vigilance over exactly what is being shipped, how it's being shipped, and what entities are handling those shipments
Any business that uses, stores or offers chemicals of any kind should consider bringing in an expert to evaluate their processes. The risk, liability and exposure are too severe to not have a clear understanding of how to properly handle the hazardous products.
How To Qualify a Hazmat Carrier
When selecting a carrier, shippers should seek out one that has a hazmat department that offers high levels of service and either meets or exceeds safety and compliance standards. For insurance and regulatory reasons, many general commodity carriers have moved away from hauling hazmat over the last few years. Shippers should not assume that all carriers will haul hazmat or that the carriers they select will look after their best interests by ensuring shipments are compliant.

Companies should really vet the carriers they're working with. A few steps a shipper can take to qualify a hazmat carrier are:


Verify that the carrier utilizes stringent compliance programs that go beyond what state and federal laws require.
Request proof of operating authority, permits, safety rating, and years in business providing hazardous materials transportation services.
Look at the carrier's financial stability, whether they hold appropriate insurance, whether they understand the classes of hazmat and if they employ experienced personnel.
Meet with a carrier's hazmat experts to discuss processes and to get insight into a carrier's level of hazmat expertise.
Using carriers that scrutinize the hazmat shipments they accept can and does catch shipment discrepancies that could otherwise result in unsafe situations or violations at roadside DOT inspections. Such carriers minimize potential risk and liability of non-compliant shipments to the company.

For more information on Landstar's services, click here to request a quote.