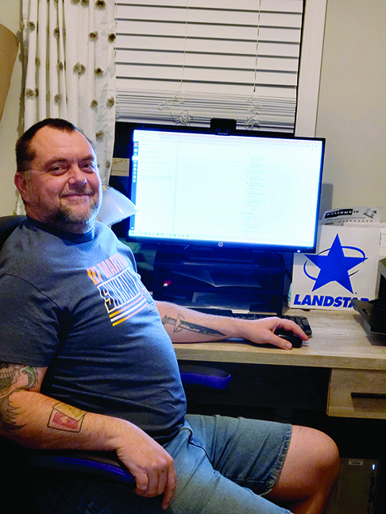 When independent owner-operators lease to Landstar, they choose the freedom to run when and where they want to travel. This freedom, along with support from Landstar, provides endless possibilities for business growth. And for some entrepreneurs that means taking the opportunity to further their education.
The Road to Success magazine recently spoke with Landstar Business Capacity Owner (BCO) Jason Mollett about his experience running a business while going back to school. Mollett has earned an associate degree, bachelor's degree, and is currently working on his master's degree, all while hauling loads as an independent owner-operator leased to Landstar.
How did you get started in the transportation industry?
I began my career in the U. S. Army and learned how to drive heavy equipment during that time, so when I got out I decided to get a commercial driver's license (CDL). I spent a few years working as a company driver before starting my own business as an owner-operator in 2006. I leased on to Landstar in 2013, and the next year I went back to school to complete my associate degree while still driving my truck.
What made you decide to go back to school?
At first, getting my associate degree was mostly a point of pride – I knew I was capable of it, so I went for it. I enrolled part time in an online program from Central New Mexico Community College. But I treated it more like a hobby, took my time and enjoyed the process. After I finished, I was motivated to keep going and, in 2020, I started working on my bachelor's degree through the online program offered by the University of Tennessee at Martin (UTM). This time, I was more motivated and chose to enroll full time. When I graduated with my Bachelor of Arts in interdisciplinary education in 2021, I figured "why stop here?" So, now I am working on my master's degree in strategic communications through UTM.
How do you find and select the schools to attend?
For my associate degree, I chose the community college near where we were living at the time in Rio Rancho, New Mexico, because it was an affordable option, but also because it is an accredited and reputable institution. Like most community colleges, it has an open admissions policy, so I just had to show that I met the minimum requirements to enroll.
For my bachelor's degree, I needed a program that fit with my full-time business schedule since I wanted to attend school full time as well. Being on the road meant that I needed classes that didn't meet at an assigned time, or ones that were recorded for viewing after the class. I was specifically looking for a program through a public university rather than a private or for-profit university, because it is a cost-effective option. I also needed a school that offered a degree I was interested in. Through an online search, I learned about the UTM Online program, which is tailored for students who have busy schedules. It met all of my criteria. Having my associate's degree helped with admissions and the online application process was easy.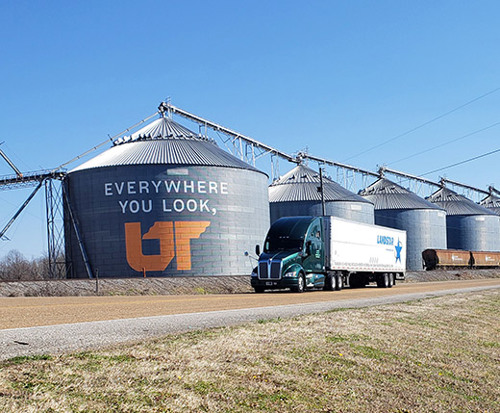 The decision to stay with UTM for my master's degree was easy because I was happy with my undergrad experience and they offered a degree I wanted to pursue.
Any special equipment needed for going to school online?
A computer and a reliable internet connection are essential. UTM uses a web-based portal called Canvas where students access the class materials needed for each course, submit assignments and take tests. A web camera is important because many courses require students to be on camera while taking tests to prevent cheating. UTM students also must use a web browser extension during tests that prevents other browser windows from opening.
What is one of the biggest challenges when balancing work and school?
Allotting the right amount of time to complete my schoolwork is a challenge because I don't always know how much time a class is going to require until starting it. Having the flexibility as an independent owner-operator leased to Landstar enables me to take time off the road for school when I need it, which has been a huge help. I also use Landstar's load board to find and choose the loads
that work for my business with my schedule. I was only on the road about 200 days in 2021, but I was still able to generate enough revenue to keep my business going and support my family.
I have an "accountability partner" for support – my wife, Tracie. She has three associate degrees and decided to earn her bachelor's degree when I did. Now, we are both working on our master's degrees. So as a team, we balance the business and our family, and then make sure we each have time for individual schoolwork.
What are some of the advantages of going back to school?
For me, it keeps me plugged into a wider community. It is easy to let most of my life be centered on the trucking industry. Through school, I have made contacts who can offer different opportunities and viewpoints. The biggest advantage of getting my master's degree so far is inspiring Tracie to get her master's degree to become a school counselor. So we keep pushing each other along in our careers. My plan after I finish my master's in strategic communications is to grow as an entrepreneur by offering communications services in addition to continuing my trucking business. As an independent owner-operator, I have the ability and flexibility to do both. And I have a backup career should something ever happen where driving a truck is no longer feasible.
What advice do you have for owner-operators who are thinking about going back to school?
First, do your research on programs. There are a lot of options for online degrees available, particularly in the post-COVID era, but the experiences can vary. Programs that have an already established record with online teaching will probably offer a more robust and seamless learning experience than those still trying to figure it out. Second, if you're not ready to jump in completely, dip your toe in by signing up for one class. Community college courses are generally inexpensive and flexible, so they are a great place to start. Third, each state has laws that govern a college or university's ability to offer programs in that state. So you'll want to confirm that you are eligible to enroll in an online program if it is based in a different state than you are living.