Landstar's culture includes support of local communities through donations and employee participation in many non-profit organizations. In 2022, Landstar employees raised thousands of dollars for and donated hundreds of hours to a variety of causes.
Santa's Helpers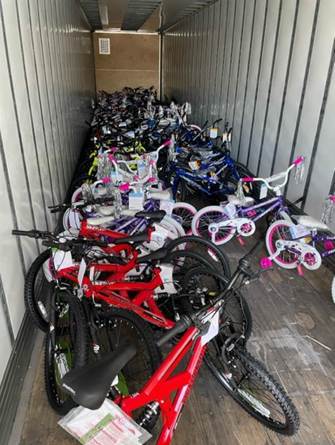 Since 1990, Landstar's Jacksonville-based employees have donated gifts each holiday season to the Child Guidance Center (CGC) in Jacksonville, Florida, through the center's Angel Tree program. CGC is a private, not-for-profit organization serving the needs of children, adolescents and their families in northern Florida since 1951.
This year, Landstar employees purchased items from the wish lists of 150 children, while employees who chose to make a cash donation helped to buy gift cards and extra gifts to support another 60 children in need.
Many of the children's wish lists include requests for bicycles, so 16 years ago, Landstar began hosting a separate drive for bikes. This year, Landstar employees raised money to purchase 105 new bikes and 15 helmets, while an additional 14 bikes were donated.
A team of 20 employees volunteered to help with receiving and sorting gifts, shopping and wrapping gifts, loading and unloading the truck, and organizing at the center. The bikes were transported to the center by independent Landstar BCO Darron Rush.
Landstar's Rockford-based employees are in their 30th year of partnering with the Winnebago/Boone Foster Care Alliance, which is a collaboration of child welfare agencies in Illinois' Winnebago and Boone counties. Landstar employees donated 38 gifts for children served by the alliance, who may have otherwise been without.
Amplifying Good
Since 1990, Landstar has rallied employees to raise funds for the United Way of Northeast Florida and the United Way of Rock River Valley, Illinois. In October, Landstar employees pledged more than $26,000 for this year's campaign, Amplify Good!
On the Run for Workplace Wellness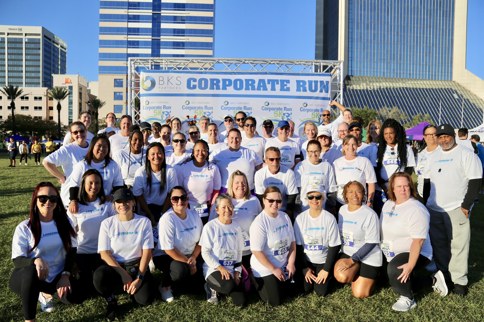 Nearly 60 employees from Landstar's headquarters in Jacksonville participated in the BKS Partners Corporate Run 5K in October. The race brings together Jacksonville's business and non-profit community, celebrating workplace health and wellness, and promoting company spirit. A portion of the event's profits goes towards supporting local high school cross country and track teams, including summer camp scholarships. Landstar has participated in this race every year it was held since 2012. This year, Landstar placed third in the Team Spirit award, which recognized teams with the most participants.
Heart Heroes
In support of the American Heart Association (AHA), Landstar helps to raise funds for the organization's mission to defeat heart disease and stroke, our country's No. 1 and No. 5 killers. Landstar contributed $25,000 to the AHA's First Coast Heart Ball, held in April 2022, which raised over $1.6 million. In September 2022, Landstar employees, along with friends and family, laced up their sneakers for the AHA's First Coast Heart Walk. Landstar teams walked at the office, around their neighborhoods, and on the beach. Landstar's total contribution to the American Heart Association in 2022 is nearly $30,000.
In addition, Landstar and its employees provide monetary donations or volunteer hours to the following organizations: