Landstar Gives in 2017
Landstar would like to thank the many employees who take the time to support the communities in which Landstar operates. Throughout 2017, Landstar employees in Jacksonville, Fla. and Rockford, Ill. participated in dozens of fundraisers, clothing and food drives, and volunteered at community events.
A+ For Effort
Through various fundraising efforts, employees collected school supplies, clothing, food and money to support Rockford and Duval County Public Schools and Jacksonville's Child Guidance Center.
The drive to save lives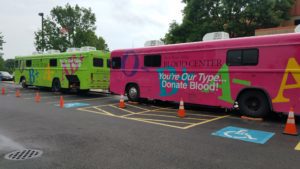 Three lives can be saved with just one blood donation, so by rolling up their sleeves and donating blood, employees in both Jacksonville and Rockford saved 562 lives this year. Blood drives were held at the respective locations throughout the year with employees' donations making a big difference for the local blood banks in their areas. Jacksonville employees' donations supported One Blood and donations in Rockford benefited the Rock River Valley Blood Center.
Fighting Cancer
In March, Jacksonville employees hosted Landstar's first-ever "Karaoke for a Cure" event benefitting the American Cancer Society's Relay For Life.  The event raised more than $400, kicking off months of fundraising leading up to Jacksonville's main Relay For Life event held in May at the University of North Florida.
In support of Relay For Life, employees participated in fundraising events including an ice cream social and multiple bake sales. Overall, Landstar employees raised nearly $4,000 for the American Cancer Society in 2017.
Walking for change
In April, Rockford and Jacksonville employees took steps to raise awareness about healthy lifestyles on behalf of the American Heart Association by participating in National Walking Day. In November, Jacksonville employees joined in the American Heart Association's annual Heart Walk. Ultimately, hundreds of Landstar employees raised nearly $2,000 for the American Heart Association in 2017.
Baby Steps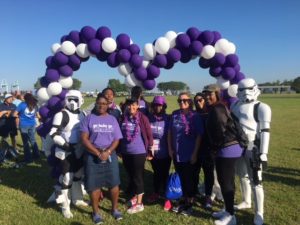 Landstar's annual March of Dimes® fundraiser brought in $1,232 to help Northeast Florida moms and premature babies. A group of employees in Jacksonville also participated in the March of Dimes annual March for Babies® event in May. Since 2015, Landstar employees have raised more than $4,000 for March of Dimes.
Bingo!
Employees at the Jacksonville service center took a chance to support the United Way. The annual bingo game is an employee favorite when it comes to mixing fun and fundraising. In 2017, Landstar raised more than $40,000 for the organization, exceeding donations made in 2016 by $1,350.
Food for Thought
Every can counts during Landstar's annual Thanksgiving and Christmas food drives benefitting less fortunate families in Jacksonville and Rockford.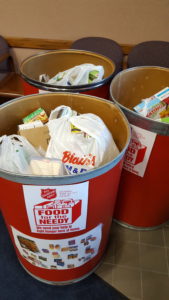 In Jacksonville, 5,254 donations in the form of cash and canned goods were collected throughout November. The majority of the food items are hand-delivered by employees to families throughout Duval County, and any extra items collected are donated to a local food pantry.
In Rockford, three large barrels of non-perishable goods were collected. The annual food drive in Rockford supports The Salvation Army, providing meals for families and individuals in need.
Santa's helpers 
Each year dozens of Landstar employees play Santa's helper when they buy toys and clothes for Landstar's Adopt-an-Angel program. This year more than 200 children received gifts during the holiday season, thanks to Jacksonville employees.
Rockford employees provided gifts to 50 foster care children in the immediate area through the Adopt-an-Angel program. Other donations by Jacksonville's employees went towards gifts and the purchase of 110 bicycles delivered to the Child Guidance Center for distribution to children in need.